A port in any storm
22/03/2017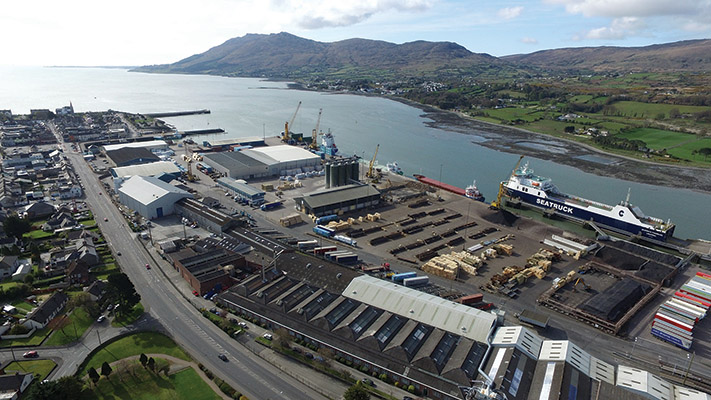 Warrenpoint Port is Northern Ireland's second commercial port, handling over three million tonnes of cargo annually. We caught up with Warrenport Harbour Authority CEO Peter Conway to find out more about the success of this vital gateway to the UK and Europe.
Even through the most challenging economic times that this island could throw at it, Warrenpoint Port has continued to thrive and develop, evolving into Northern Ireland's second-largest commercial port and one of the most important in all of Ireland.
At the 2016 AGM in June, a 3.1% increase in tonnes handled was announced as well as £5.3 million turnover for the 2015 calendar year. Cargo volumes have increased to a record level, while the port continues to invest to increase the scale of its business by providing infrastructure to meet not only current demands but the expected increase in demand in future years.
The management team continue to seek out new business opportunities to diversify business trades and good examples of this are the cement export facility and biomass. To this end, in December 2015, the board agreed to the construction of new cement silos, a project which will cost in excess of £2 million and will be completed later this year.
In an effort to predict future demand, the directors are undertaking a master planning exercise which will determine the strategic direction of the business over the next 30 years and highlight investment requirements so that the port can continue to play a very important role in the regional economy.
The port's main areas of generating income are through: charges for provision of port facilities to commercial, fishing and recreational vessels; charges for handling of goods being transported through the port; charges for storage of goods on port; and rental income from provision of offices and other accommodation to port customers.
Warrenpoint's geographic position at the centre of Ireland's economic corridor, equidistant between Belfast and Dublin, constitutes a major strategic advantage. The port aims to be the preferred location for the import and export of goods and thus continue to be a major economic driver for its hinterland.
The principal corporate objectives of Warrenpoint Port are to operate profitably and in a manner where Health & Safety and environmental awareness are at the highest standards, to be a strong regional economic driver and good corporate citizen, to invest in people and to afford stakeholders value and transparency.
"We're the second port in Northern Ireland and the fifth on the island –we're actually bigger than people realise,"notes chief executive Peter Conway. "Warrenport has a long association with the sea and ships, and the modern port was developed in 1974 and has been in constant development ever since.
"It was developed to take over from the port of Newry, which became restricted due to the ship canal, and has displaced Larne and Derry into 3rd and 4th place in terms of tonnage over the last couple of years, so it's certainly moving forward."
Regarding the drivers of this remarkable success, Peter adds: "Being halfway between Dublin and Belfast on the main economic thoroughfare is a big advantage and we also offer competitive rates. We have flexible staff who provide a good service and that's why customers stay with us."
Warrenpoint Port also benefits from being able to cater for a mixed customer base. "Warrenpoint is like a microcosm of a large port than a medium-sized port,"the CEO continues. "We're more like a smaller version of Dublin or Belfast Ports due to the variety of services offered.
"We have roll on, roll off twice daily to Heysham in Lancashire; a container service to Bristol three times a week which calls in to Dublin and Cardiff; bulk cargo imports - mainly of animal feed from Canada, Ukraine, France, Denmark and Germany –and bulk exports of cement for the Quinn Group to England and the continent.
"We also break bulk import timber –from Estonia, Finland and Sweden –and steel. We're the main harbour on the island for importing timber."
Adding to the veritable smorgasbord of materials going through the port, it also imports coal and exports RDF (Refuse-Derived Fuel) and recycled scrap metal. "On the container and roll on, roll off services, we do pretty much everything –from furniture to machinery and telecommunications equipment to animal feeds etc."
There's more to the port, too, than just commercial freight and imports and exports. "We cater for cruise ship visitors coming to see the Mourne Mountains and the Cooley Peninsula,"Peter explains. "We also have a small marina with yachts and a fishing harbour, which is used mainly for mussel dredging for export."
As a successful cross-border operation, Peter Conway and Warrenpoint Harbour Authority naturally campaigned strongly against Brexit and the CEO says that –with 45% of the port's business traditionally coming from the Republic of Ireland –he would hate to see a return to the hard border. Even as we spoke, I glanced out the office window at the flurry of activity outside and there were as many southern-registration trucks to be seen as UK ones…
The importance of Warrenpoint Port to the local economy cannot be overstated. "Between stevedores and hauliers etc., there are 200 people working here every day,"the CEO concludes. "Around 70 of those are direct employees of the Authority and we are responsible for some 1,400 jobs in the area when you take into account the multiplier effect."
Warrenpoint Harbour Authority,
Warrenpoint, County Down,
Northern Ireland. BT34 3JR
Tel: 028 / 048 41773381
Email: info@warrenpointharbour.co.uk
Web: www. warrenpointharbour.co.uk
Taken from Irish Trucker & Light Commercials magazine, Vol 19 No 8, September 2016