The stone specialists
22/06/2017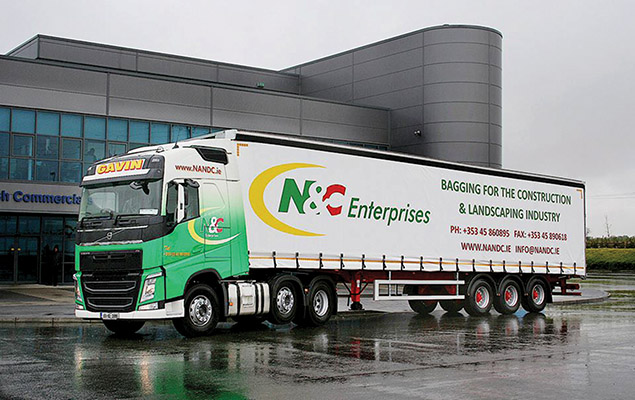 Many parts of Ireland produce aggregates that is ideal for quarrying and this is a major industry throughout the country. Through modern technology and the willingness to progress, companies now produce a wide range of products for a variety of markets.
For this month's edition of Irish Trucker, we profile one such company and take a look at the services that they provide a large customer base.
N&C Enterprises is a family run business that has been providing its services since 1968. Situated in Kilmeague, Naas, Co Kildare, the company has grown significantly over the years, but through all the changes, one thing has never changed and that is that the customer comes first.
Patriarch of the family is Michael Gavin who started out from humble beginnings supplying sand and gravel to local farmers and the general public.
These days, his sons Joe and Clement oversee the day to day operations of the business as they specialise in the distribution of bagged and bulk aggregates throughout Ireland and the UK. This includes sands, gravels and decorative stones.
Some of the products supplied include bagged gravel and sand, landscaping stone, wet and dried dashes, other bagged products, flood & ice protection, winter fuels, rubble bags. Dry products include super white Portland cement, sand and cement mix, post fix, concrete mix, white rhino hydrated lime. Premium products include durapatch, salt tablets and children's play sand.
"Through our reputation for quality and service our product range has increased to satisfy our ever increasing customer base. We now supply all aggregate sizes and grades. We have built up a reputation for a quality product and service over the years."said Joe.
The family run business is now in its fourth generation and it is fair to say that the Gavin family know a thing or two about the quarry industry.
"We have built up a reputation for providing top class products with a second to none top class delivery service. We have a next day service, nationwide. We maintain a high standard of service that our customers appreciate.
N&C salt tablets are the ideal compacted salt product for regeneration of domestic & smaller commercial water softeners, packed in 25kg bag, while they also winter fuels to the industry.
Over the past few years, the company have undertaken a major expansion programme as they strive to meet their customers'demands. New products have been added to their portfolio and not only have their customer base in Ireland grown, but in the U.K also.
"There have been many changes over the years and that is something we will continue to do in order to ensure that we keep up with the latest changes to the market.
"As a supplier and in today's market we must adopt and be at the forefront of any changes facing us, to satisfy the customers' demands needed to complete quality projects on time."
N&C Enterprises future aim is to listen and work with the customer, be innovative and endeavour to provide more new quality products and methods which will assist the customer in meeting the challenges of our future.
The customer base of N&C Enterprises sees them deal mainly with Hardware companies, many of whom have been with them for years.
Some of the stone on offer from the company is sourced from countries like Italy, Portugal, Spain and the U.K and shipped to their depot in Kildare.
Joe stressed that it is essential that they keep investing in the business in order to maintain their high level of service.
"We would be investing in the business all the time. We have recently added new plant as well as new trucks. All our plant is well maintained and looked after by our mechanics.
"We have also installed a full bagging plant and this is the first of its kind in Ireland. It is fully automated and helps increase our production levels considerably."
N&C Enterprises employ 20 people many of who have been with the company for years and are considered a part of the family at this stage.
"There are people here years. This is a family run business and they have played their part in the success that we have had over the years."
Joe added that they were happy with the direction of the business at the moment, which has seen an upturn in the last 18 months or so.
"It's taken a while to get going again after the recession, but we'd be pleased with progress now. We saw a 16% increase in production so far this year and we're aiming for 12-14% next year.
"You still have to be very cautious when making big decisions, but overall we would be very happy with the way business is going."
We sincerely thank all our customers for your support over the years and look forward to our company being of assistance in the times ahead.
N&C Enterprises are very proud of their involvement in certain charitable work, which has benefited people who have suffered greatly. It is through the continued support of their customers and friends that they are in a position to contribute as they do.
N&C Enterprises
Kilmeague, Naas, Co. Kildare,
W91 HHP2, Ireland.
Tel: 00 353 45 860895
Fax: 00 353 45 890618
Email: info@nandc.ie
Taken from Irish Trucker & Light Commercials magazine, Vol 20 No 1, February 2017