James Foy - the recovery specialists
23/11/2017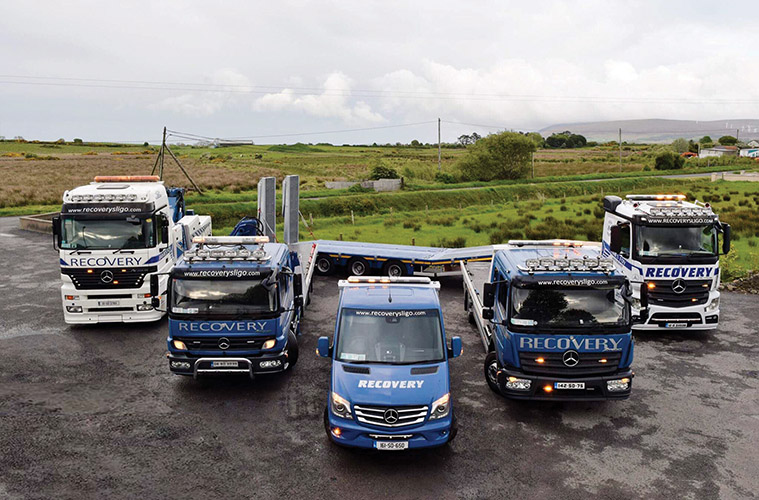 Whether you have one commercial vehicle, or a whole fleet, it's important that you can rely on them at all times.
However, there are occasions when you do need assistance, and that's where roadside assistance service can help.
Since 1989, James Foy Auto Service, Sligo has been providing the public with an honest, reliable and prompt service.
Specialising in roadside assist and recovery for vehicles ranging from cars to light commercials, this family run business has seen its customer base grow year on year.
"We have a fully equipped & staffed garage at Dromore West, Co. Sligo to provide all in house mechanical requirements. We also offer 24 hour Recovery Services & Vehicle Towing 7 days a week with a substantial fleet of vehicles suitable for all circumstances,"managing director James Foy told Irish Trucker.
"We can tow any vehicle. We are fully insured PAS43 certified and are agents for all major assistance companies. We also have a jeep that is used for off-road recovery."
Recently added to the fleet has been an extendable low loader specifically to lift buses and coaches. Purchased from Ashbourne Truck Centre, the new addition is sure to enhance the company's business.
James stressed that they are fully compliant with all regulations and legislation within the industry, while they are also fully insured.
"We do everything by the book here. We are fully insured and that means every car or vehicle that we recover is insured, which is not the case for some operators, who don't insure the vehicles that they are recovering.
"Many of the customers would not realise this, but there is not enough being done to highlight this and make them aware of the pitfalls of getting someone that is not fully insured,"stressed James.
Operating seven recovery vehicles allows James Foy Recovery to attend any job in double quick time and ensure that customers are not waiting too long.
"We are always ready for a call out. I've three tilt and slide trucks, a service van and a heavy recovery underlift for trucks and coaches."
The team of five experienced and highly-skilled engineers are always on hand to deal with any problems that they come across on a daily basis.
"The lads are all IVR trained and they are experienced at what they do. I would never have any concerns of them going out on a job. We provide emergency roadside breakdown recovery services 24 hours a day, 7 days a week. If your vehicle has broken down and requires towing we can have a member of our breakdown recovery team with you. Without the lads, the company would not have had the success that we have had over the years and we are very grateful for the work that they do."
Another string to the company's bow is a relatively new service where a specialised mobile fuel assist van goes on site to drain unwanted fuel.
"Not many companies would provide this type of service. We have a van kitted out with a fuel assist unit. If someone say for example puts the wrong fuel into their car, we can go to where they are and drain that fuel from their tanks, which is then disposed of in the proper manner
James admitted that their best form of advertising was done through word of mouth as the work they do speaks volumes for their reliability.
"We have built a highly trusted and respected reputation throughout the surrounding area and beyond for our garage services and vehicle breakdown recovery in Sligo, winning National awards on two occasions. Our customer base has grown considerably over the years and we would work with a number of insurance companies, garages, main dealers including the Connolly Group and we also have a contract with Bus Eireann for the North West."
The full equipped workshop allows James and his staff carry out repairs and maintenance on anything light or heavy commercial, as well as cars and vans.
"In the workshop, we would do the likes of diagnostics for most types of cars and light commercials, servicing and general repairs, NCT & DOE preparations, computerised four wheel alignment, Aircon Service Delphi diesel service centre, tyres and puncture repair service, wheel balancing and a body shop. In conjunction with the RSA, we would carry out weekly checks on vehicles also.
James revealed that the next generation of the family is showing a keen interest in the business.
"My son Brian who is 14 is showing a big interest in the business and he helps out when he is off school."
Pleased with the direction that the business is heading, James is fully focused on keeping the customers that he has happy by continuing to provide the high level of service that they have become accustomed too.
"We are happy with the workload that we have on. Many of our customers have been with us for years and once they are satisfied with the service we provide, then that is good enough for us."
James Foy Auto Service
Leharrow, Dromore West Sligo
Ireland
Tel: +353 96 470 52
Mobile: +353 87 254 1243
Taken from Irish Trucker & Light Commercials magazine, August 2017, Vol 20 No 5