The container transport specialist
30/01/2018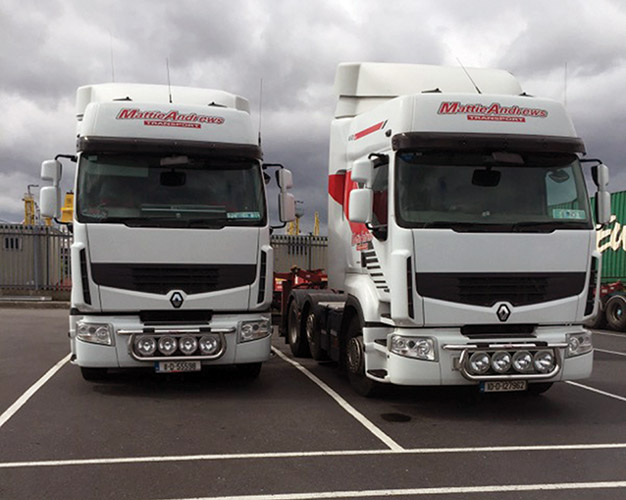 Mattie Andrews International Transport is a long-established and highly-regarded container transport specialist operating out of Dublin Port. The haulage firm works almost exclusively for Eucon Shipping & Transport Ltd, which is the container division of the Irish Continental Group.
As an island, Ireland relies heavily on shipping for import and export of goods. In this regard, Mattie Andrews International Transport acts as an important link in working closely with Eucon Shipping & Transport Ltd to distribute goods throughout the greater Dublin area. And as a small, family-run business, Mattie Andrews International Transport is able to provide an exceptional, personalised, reliable and value-for-money service to its clients.
"There are no airs or graces about us. We're actually quite proud of the fact that we're small because it has allowed us to form closer relationships with our clients down through the years. We can offer them the personal touch they won't get from larger companies,"Mattie Andrews explains.
Mattie has been trading successfully since 1990 when he purchased his first truck, a Scania 82M.
"The lorry cost me £2,500 and the trailer £500,"he remembers.
"I then went on to buy a three-year-old Hino SH350 in 1994. By 2007, I was running a fleet of seven Iveco trucks. At that stage, I saw the writing on the wall (i.e. the onset of the recession) and decided to sell four of them. I have stuck with three trucks since and am happy with what I have."
All three are Renault Premiums which pull a mixture of Dennison and SDC sliding trailers. Mattie's policy is to buy trucks when they are three or four years old as he feels his line of work doesn't justify buying brand new.
"Your trucks don't have to be new to do container work in Ireland. There would be an argument for buying new if you were involved in international transport, but our trucks don't get that sort of hardship. We load the containers in Dublin Port, bring them to their destination and reload the containers coming back about 60 per cent of the time. We used to cover a wider area and even provided a home removal service to the UK at one stage, but we found that it was more profitable by staying closer to home. Most of our work is confined to Dublin now."
He continues: "We recently bought our third Renault Premium from Jim Toner in Setanta Vehicle Sales on the Long Mile Road. They have always looked after us well and provide an excellent back-up service."
Helping Mattie to the run the business are his partner Lisa and drivers Rolandas and Tommy.
"We're a tight-knit team. Lisa looks after the administration side of things and Rolandas, Tommy and I drive the trucks. Rolandas, who's originally from Lithuania, has been with us for 11 years and Tommy also has a lot of experience as a driver. I also look after the maintenance of the fleet,"the affable haulier says.
Mattie Andrews International Transport has enjoyed a long-standing relationship with Eucon Shipping & Transport, working out of their terminal in Dublin Port. Eucon provides a lift on / lift off (Lo Lo) container service between Ireland and the Continent, connecting the Irish ports of Dublin, Cork and Belfast with the ports of Rotterdam in Holland and Antwerp in Belgium.
Eucon operate from Irish Continental Group wholly-owned container terminals in Dublin and Belfast which are run by its sister companies, Dublin Ferryport Terminals (DFT) and Belfast Container Terminals (BCT), both of whom employ the latest modern and efficient handling machines and systems.
Eucon is committed to the enhancement of customer service through technological development, highly-trained staff and continuous change to meet the needs of a growing customer base. Its fast, direct container service between Rotterdam and Dublin ensures that perishable and urgent consignments reach market in the shortest possible time. Operating between Ireland and Poland in northern Europe to Italy in the south, Eucon's door-to-door container services utilise the excellent European road, rail and inland waterway networks via the hub ports of Rotterdam and Antwerp.
Further investment has been placed in providing the latest and modern container equipment fleet. Eucon's equipment fleet offers 20'Standard, 40'and 45'Palletwide containers as well as a wide range of specialist equipment, including 45'Hi-Cube Palletwide refrigerated containers, Curtainsider containers, and 20'and 40'Open Top containers and Flatracks.
"Eucon are a great company to do business with,"Mattie enthuses.
"We've been working with them for many years, going back to when they were part of B&I. They are the market leaders in door-to-door container transportation and we're very proud of our long association with them. Hopefully, our successful partnership will continue for many more years to come."
Mattie Andrews International Transport
Harbourstown,
Naul,
Co. Dublin.
Telephone: 01 8413552 / 087 2516890
Email: mattieandrewsinttransport@yahoo.ie
Taken from Irish Trucker & Light Commercials magazine, September/October 2017, Vol 20 No 6