"The boom is definitely back"
30/11/2018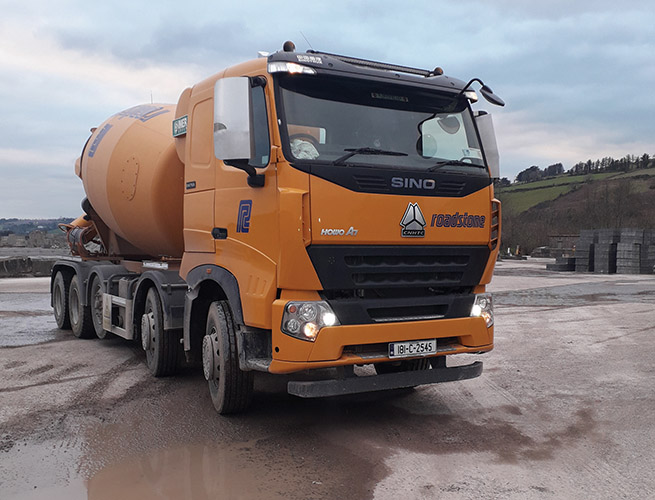 Cork man Sean Holmes has been on the road for best part of three decades as a sole trader lorry driver. Irish Trucker heard more from the man himself about his work around the Munster region for the country's leading construction and building materials supplier Roadstone.
Driving concrete mixer trucks has been part of Sean Holmes's life for some time now and the Co Cork native and he's happy to report that business is as good as ever down in the Rebel County.
Sean is a sole trader that has been driving for Roadstone – Ireland's biggest construction and building materials supplier – for the past 27 years and at present he has three ready mix-trucks in operation.
The origins of Roadstone of course date way back to the early 1930s when two brothers from Dublin started up a sand and gravel haulage business.
Tom and Donal Roche started their venture with a single Bedford truck and operated from a small yard in Inchicore.
The business was originally called Roche Brothers but later became known as Castle Sand Company and throughout the 1930s and 40s it continued to grow. In 1949, they launched a new company known as Roadstone and were supported by Cork man John A. Wood, who had his own sand, gravel and quarrying business down south and, as the years passed, his venture would join with Roadstone.
Those details explain Roadstone origins in Cork and also demonstrate how a man like Sean Holmes came to carry out work for the country's leading construction and building materials supplier.
As for Sean's family's origins in the business, his father ran a Hino truck with John A Wood for a couple of years.
"I'm a fabricated welder by trade and eventually I got into driving a truck. I gave up the welding and went into driving and eventually ended up starting with Roadstone," Sean outlined.
"It's 27 years now since I started mixing concrete for them. It used to be just known as 'Johnny Wood's' in Cork but during the recession it changed to Roadstone Woods. That was around 2008 or so and it just became known as Roadstone here is Classis, Ovens."
Classis, Ovens is one of seven Roadstone locations in Cork and you can be sure that Sean Holmes has been around all of them many times during his time working for the firm.
Nowadays he's 'flat out' on the roads and is happy to report that "the boom is definitely back" where he is.
"I can tell you that over the last 12 months or so the boom is definitely back. Certainly here in Cork it is very busy and has been since before last summer. Hopefully it can stay that way and it looks like it's going to for the time being anyway," Sean enthused.
With regards to the trucks he's operating with, Sean tends to stick with two brands – Scania and Hino.
Scania is a superb brand known worldwide while Hino, a Japanese manufacturer of commercial vehicles and diesel engines, gets its name from being headquartered in Hino-shi in Tokyo.
Sean recently added a Scania artic tipper to his fleet and usually goes one place to buy his trucks, with D. Dennehy Ltd his preferred choice when he's buying.
"I deal with Dennehys in Carrigtwohill when it comes to my trucks," he stated.
"They've a good reputation and a good product as well. I have to say that I've never had a problem with them in all my years dealing with them and that's the main reason I keep going back to them. The mixer unit I have here is from Midland Truck Mixer in Offaly – and they're another good outfit, I have to say.
Roadstone aren't bad to deal with either, according to Sean, who will soon be coming up on 30 years with the subsidiary of Irish multinational Cement-Roadstone Holdings (CRH).
Since its inception, Roadstone has used local products sourced on its sites and delivered to customers in the locality.
The company employs people local to its sites, both directly and indirectly, and those employees in turn spend money in their local economy.
The company's website explains that "the average delivery trip of a Roadstone truck is 12kms".
"You start in your location and come up to the closest one after that. The other depo usually go to is in Mallow but you mostly stay in your own location," said Sean.
"They're always aiming to supply – big or small. Roadstone are always big enough to take on any supply for any job – big or small.
"The other reason I stayed with them is because they're a very good company and all down through the years I've never had a problem with them. They are there for the long-term."
So far in 2018, Sean has been occupied with regular trips to the Jannsen plant in Ringskiddy – a €300 million expansion project for which the Sisk Group are the main clients.
The project will create 450 jobs in the area during the two-year construction.
"Jannsen in Ringaskiddy is a job for Sisk that I've been going to regularly and we also worked on the the Pairc Ui Chaoimh development last year," said Sean.
"There's a lot more projects coming up too - a lot of them in housing - that I just wouldn't be able to talk about at the moment. But, as I said, things are looking good again."
Indeed the picture is very bright at the present time and men like Sean Holmes hope it stays that way.
He's been in this game long enough to know that things can change fast and right now he's more than happy to make hay while the sun shines and stay on the road six days a week for Roadstone.
"If half of the things started up that they've been talking about than we'd be looking at a very busy 2018. There's a bit of confidence about now and that's a good thing. Hopefully we'll be busy for the next couple of years here," Sean concluded.
Sean Holmes
Clanmoyle East,
Coachford,
Co. Cork
Tel: 086 8152707
Taken from Irish Trucker & Light Commercials magazine, July 2018, Vol 21 No 5