Professional, certified tyre recycling
14/12/2018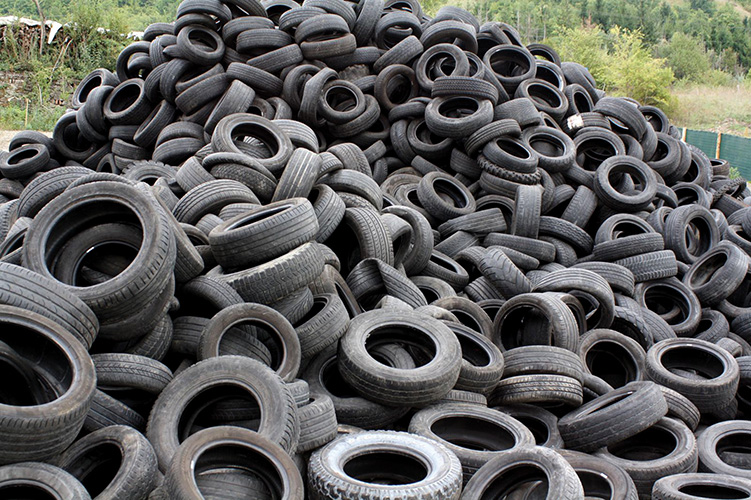 Operating out of Coachford in West Cork, PK Rubber has over the past two decades established itself as one of Ireland's premier tyre recycling companies. We caught up with founder Pat Kelleher to find out more about this market-leading enterprise, which has been a RepakELT approved tyre recovery operator as of October 1st, 2017.
PK Rubber is owned by Pat and Anne Kelleher and has its headquarters at Roovesmore, Coachford in County Cork. From a dairy farming background, Pat first entered the waste management industry almost two decades ago, in 1999, when he started up a tyre processing plant on his farm and established Pat Kelleher Waste Tyre Services, which evolved over the years into PK Rubber.
Steady investment in the business down through the years has enabled PK Rubber to develop into an efficient, cost-effective, customer-focused tyre recycling operation which delivers positive solutions both for customers and – perhaps more importantly – for the environment.
Safe and environmentally-conscious processing and recycling of waste has been a key driver at PK Rubber since inception. Today, Pat still runs the business in strict adherence with all relevant regulations and legislation. To this end, the procurement of RepakELT approved certification represents another step forward.
Wholly customer-focussed, PK Rubber are prepared to collect tyres on a weekly basis anywhere nationwide, provided there are reasonably-sized loads. By combining orders, the truck can be filled and an arrangement made to suit all parties.
Pat has always considered what's best for customers since he started the business up and this will be very much the approach he continues to take going forward, looking after retailers and customers both old and new. With several different options available to customers regarding the collection of their waste tyres, PK Rubber is ideally placed to provide keen solutions not just in Cork and Kerry but up as afar as Galway and across the midlands.
"Every year is challenging in this line of work but we are surviving and hopefully things will pick up," Pat says. "As we are a RepakELT approved collector now, that should make things a little busier. We've always put the customer first and that is what we will continue to do."
Providing a bespoke, reliable and fully-compliant waste tyre collection service across Cork, Munster and beyond, PK Rubber can recycle any type of tyre – car, truck, van, bus, motorbike, tractor, agricultural and industrial – counting farmers, garages, dealerships, tyre retail outlets, hauliers, quarries, local authority depots, scrapyards and waste recycling centres amongst their ever-expanding customer base.
From a single tyre to a trailer load, unwanted waste tyres can be shredded and recycled, using the latest specialist machinery, into rubber that's suitable for a range of purposes, diverting toxic waste from landfill and transforming it into products that can be used again on sports surfaces, gardening, playgrounds, as building material or in industrial environments.
Shredded rubber is made from 100% recycled rubber tyres and is ideal for use as an equestrian surface, for example, i.e. for a gallop or arena.
PK Rubber has a wide and varied customer base for recycled tyres / processed rubber worldwide. Pat gives his customers a fast and friendly service and they have the peace of mind of knowing that their unwanted tyres are being professionally recycled, not alone protecting the environment but in the process generating a new product that has minimal environmental impact.
"We work nationwide and I am fully permitted to collect tyres anywhere in the 26 counties," Pat confirms. The Cork man has three Volvo trucks on the road, one of which was an upgrade purchased towards the end of last year, and gainful employment is generated for a team of eight.
"We call to the tyre centre, garage or breakers and take the tyres from them, then bring them back to our processing facility in Coachford, before being sent abroad," Pat continues. "We have a large number of regular clients that we've been working for consistently down through the years and then you always pick up some new customers too. We deal with a lot of farmers and also agricultural colleges – we used to give the tyres to them but now we take them away!"
Going forward, Pat hopes that he can expand the business steadily during the course of the current calendar year: "I have plans to move the business forward this year," he states.
"There are a lot of regulations for the people who are doing this right – and not so much for others – but I've always done the right thing with tyres all of my life and will continue to do so."
PK Rubber,
Roovesmore,
Coachford, County Cork.
Tel: 021-7334131
Mobile: 086 2943987
Email: pkrubberltd@gmail.com
Web: www.pkrubber.ie
Taken from Irish Trucker & Light Commercials magazine, August 2018, Vol 21 No 6