Business is flying at Eagle Motors
18/12/2018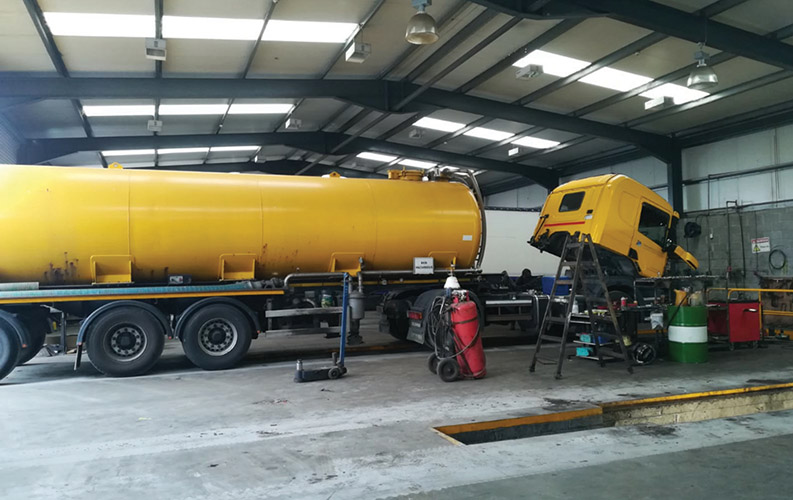 Located in the heart of Ireland, Eagle Motors has been providing an unrivalled truck, trailer, light commercial and 4x4 repair and maintenance service for nearly 30 years. Owner Jimmy Moran explains more.
As someone who has been in the business for 50 years, Jimmy has a wealth of experience and a vast knowledge of trucks, trailers and commercial vehicles. Hailing from a family of mechanics, he set up Eagle Motors in Mullingar in May 1990 and has seen it grow into one of the most reputable and successful garages in the midlands.
"I started training as a mechanic when I was 16 and I'm 66 now," explains Jimmy, who is joined in the business by his wife Kathleen and sons Declan and James.
"The truck and commercial repairs business has changed a lot down through the years – everything is computer-based now – but the basics are still the same. We pride ourselves on our experience, knowledge, expertise and quality workmanship as well as our ability to provide a prompt, clean, price-competitive and friendly service. As a family-run business, we are always happy to go the extra mile for our customers and to keep their downtime to a minimum by carrying out repairs quickly and efficiently."
He adds: "Business is good at the moment. We're after bouncing back well from the recession and are looking to the future with renewed optimism."
Eagle Motors initially operated from the site of the old Lakeland Dairies creamery (it's now home to an Aldi supermarket) on Mullingar's Green Road before moving to its current location in Mullingar Business Park. The 8,500 sq ft state-of-the-art workshop is located on a 1.3-acre site beside the Joe Dolan Bridge, which is the longest bridge in the Republic of Ireland and links Mullingar Business Park to the N52.
Eagle Motors can carry out all necessary maintenance and repairs to your truck, trailer, light commercial or 4x4 at its workshop, which boasts a full range of diagnostics for all makes and models. The garage also carries a wide range of spare parts and also has a selection of quality used trucks and commercial vehicles for sale that can deliver real value to your business. In addition, Eagle Motors offers a 24-hour breakdown and recovery service for trucks, commercials and other vehicles.
"We aim to service and repair your vehicle to a standard that will exceed your expectations. No job, or problem for that matter, is too big or too small. Our workshop caters for heavy and light commercial vehicles and all types of trailers. Our skilled team of mechanics are here to keep your vehicle safe and reliable with routine maintenance, service and repairs.
"We stock a huge range of genuine parts. In the unlikely event of us not having the part you are looking for, we will have it before the close of business that evening or first thing the next morning."
Preparing your vehicle for DOE, HGV and LGV testing is all part of the service provided by Jim and his team, who will answer any queries before and after the test. Their aim is to prepare the vehicle efficiently and assist the vehicle owner in getting a pass certificate. If a vehicle undergoing a DOE test is found to be in need of repair work, it can be carried out later.
Eagle Motors has a large and loyal client-base which includes local companies such as Tara Bottlers, DPL Group (formerly Oliver Brennan), BD Flood, Midlands Scaffolding, Ray Quinn Haulage, Five Star Transport, Alan Bardon Motors as well as Westmeath County Council.
"We're very lucky with the customers we have and would like to take this opportunity to thank them for their continued support. We are proud to be a one-stop shop for all their repair and service needs," says Jimmy.
As already mentioned, Jimmy comes from a family of mechanics with his brothers Billy, Philip (RIP), Tom and Pat having also taken the same career path. Billy runs Billy Moran & Sons in Legan, Co. Longford along with his sons James and William. Established in October 2000, the business specialises in machinery / large excavator sales and commercial vehicle repairs. Tom runs TM Hydraulics which manufactures hydraulic hoses and is also based in Legan.
Jimmy has lived in Whitehall near Castlepollard for many years and is an avid supporter of his local GAA club Ringtown, which produced Westmeath's first hurling All-Star, David Kilcoyne, in 1986. Two years ago, Jim's son Adrian – who makes hurls for a living – managed Westmeath to a famous Leinster U21 championship victory over Kilkenny. Adrian has also taken charge of a number of club teams and is regarded as one of the best young hurling managers in the midlands.
And not forgetting another of his sons, Damien, who runs Moran Signs which specialises in truck graphics and is one of the main sponsors of the Full of the Pipe Truck Show.
For your next truck, trailer, commercial or 4x4 repair or maintenance job, be sure to give Eagle Motors a call. Opening hours are 9am to 6pm Monday to Friday and 9am to 1pm on Saturdays.
Eagle Motors
Unit 32,
Zone C,
Mullingar Business Park,
Mullingar,
Co. Westmeath.
Telephone: 044 938 5000
Email: moraneaglemotors@gmail.com
Web: www.eagle-motors.com
Taken from Irish Trucker & Light Commercials magazine, August 2018, Vol 21 No 6