Transporting horses around the world
09/01/2019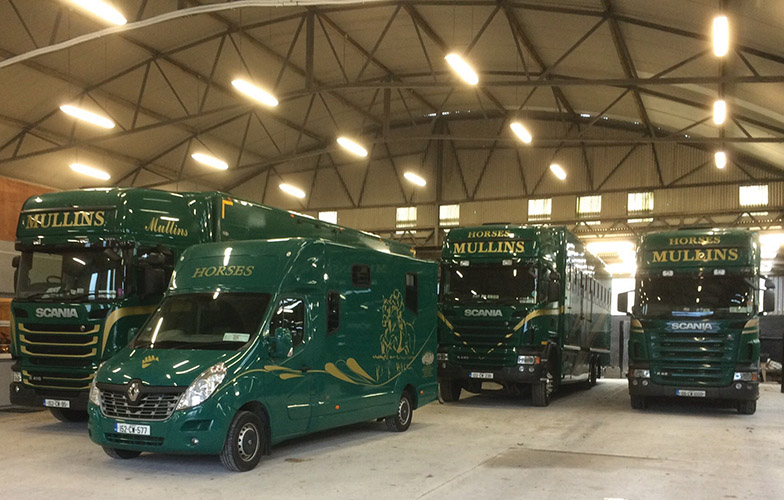 At the start of 2018, George Mullins Transport - one of the largest and most reliable horse transporters in Ireland and the UK – took possession of a stunning green-and-gold new-generation Scania 450 from KD Garage Services in Wexford. We touched base with George to get an update on his exceptional, market-leading equine transportation operation, which continues to go from strength to strength.
Thirty years on from its inception, George Mullins Transport is renowned as one of Ireland's premier equine transportation companies. Horses are professionally and compassionately transported – either by shared or private loads – throughout Ireland, the UK, across Europe and beyond.
The most direct route is taken at all times and each horse is treated individually by drivers who are experienced horsemen and hold a certificate of competence in equine transport.
The top class facilities at the George Mullins Transport base in Bagenalstown, County Carlow include 18 stables, two loading bays and a horse walker, with 24-hour veterinary care available if required. George Mullins Transport also have access to a network of excellent lairage facilities across Europe for horses in transit.
The acquisition of a brand-new Scania R450 - complete with high-spec Cahill body – in March, 2018 brought the fleet size to 13 vehicles in total, all of which are Department of Agriculture certified. And the trucks in the mixed fleet are fresh and immaculately maintained and serviced by main dealers to guarantee no downtime.
The lorries have CCTV and temperature control as standard and 24-hour satellite vehicle tracking is provided for each load. Every truck is disinfected and hot-washed after each trip.
George Mullins Transport provides a fast and competitively-priced service to all sectors of the equine industry, always putting the horse's needs first. They specialise in transporting bloodstock to and from all major sales and racing venues. Great care is exercised when moving mares, sometimes with foal at foot, to and from studs across Europe during breeding season.
The fleet at present comprises seven twelve-stall boxes, two nine-stall boxes and four two-stall boxes, the latter of which are ideal for providing a private, express service. "The four two-horse transporters are Renault Masters and they are excellent for small deliveries," George notes. "A lot of yards can't accommodate big trucks in or out so we find the Masters very good, be it for delivering to the West of Ireland or the continent. For example, there was a client who wanted one horse over to Dusseldorf recently for one show and the small two-stall box was perfect for that."
As for the recently-purchased new Scania, the Carlow man adds: "I've found that the fuel consumption in the Scanias is very good and I've been using them more than any other make over the last couple of years. We have six in the fleet at present and I can see that number possibly growing in the future. The fleet in general is very modern, with 18-, 17-, 16-, 15-, 14- and 13-reg vehicles and we're very busy at the moment, with a lot of journeys between Ireland and the UK and France in particular."
Germany, Spain and Italy are also covered while a USA (via Liege and Amsterdam) and worldwide service has been added and the team at George Mullins Transport pride themselves on the care of the animal from collection through to handover. Every aspect of the journey is carefully planned and carried out to the highest of standards.
Son of leading National Hunt trainer Paddy Mullins and brother of Willie, Tony, Tom and Sandra - all of whom hold trainers' licences - George has been involved in horse transportation since the early 1980s. He started driving for his father before setting up his own company in 1988.
As well as all the major race meetings, George Mullins Transport also takes in significant work on the back of Ireland's booming bloodstock industry, with the busiest months coming towards the end of the year when thoroughbred sales are in full swing.
The comfort and handling of the horses is of paramount importance to George Mullins and his team of horse-loving employees, all of whom go to great lengths to ensure that the animals are cared for in every possible way: "The drivers only do it because there are horses involved," the affable MD notes. "It's not a driving job, really – it's a horse-driving job. The horse part is the most important. It's very difficult to find people who want to do both and there are very long hours involved on some trips, but we are very lucky to have a super team here. They need patience and they need to get along when they're away on those long trips. A lot of our people have been driving here for ten years and they are a great asset to the business."
Indeed, employment is generated for a crew of 25, including five part-time workers. "We go to Germany every week, France twice a week, Italy every fortnight, and we're in the UK three times a week," George continues. "But our busiest time is from September through to December and you could have up to ten loads a week when the sales are on. August, by comparison, is a very quiet month but we are well used to the fluctuations now and are geared towards it."
Ironically, the actual physical transportation of the horses is the easiest part of running the business. Logistics, paperwork and communications mean there's never a dull moment at George Mullins Transport! "We have a team of five in the office co-ordinating the logistics and associated paperwork required for each load," says George. "For each delivery, you have an owner, the person letting go of the horse and the person receiving the horse. They all have to be contacted and kept in the loop. So, for one load, you could have 20-30 individuals who all need to be rang more than once. You could have ten calls to make and you might be only able to get in touch with a couple of them, so that can be very frustrating.
"But most of the professionals are easy to deal with – they tell you exactly what they want and you do that. I'm lucky to do regular business with some great customers and I also work for other transporters as well from time to time. Likewise, if a mare needs to be covered on a Friday and it doesn't suit us to transport it, we will contact one of the other horse transporters."
Minimising how long the horses spend on the road is another key objective: "Time is everything and you want to have the horse in the truck as little as possible," George confirms. "If you're going to Switzerland or Italy, you have to find a suitable stable for them en route. Twenty hours would be far too long for a horse to spend in a box – and the drivers obviously need a break too. Twelve hours, including the ferry, is more than enough time for a horse to be on the truck"
George also buys and sells some horses, while his son Emmet Mullins is currently making his mark as a trainer. Horses are very much in the Mullins blood and George Mullins Transport is here to stay: "I'm happy enough to keep doing this, so we'll stick at it for another ten years, anyway, although margins are getting tighter all the time" he concludes. "I've been involved in horses all my life and can't imagine doing anything else."
His legion of longstanding customers will be glad to hear that!
George Mullins International
Horse Transport
Closutton,
Bagenalstown,
County Carlow.
Tel: 059 9721994
Email: george@gmullins.ie
Web: www.georgemullins.ie
Taken from Irish Trucker & Light Commercials magazine, August 2018, Vol 21 No 6