The personal touch guaranteed at McGeown Logistics Ltd
06/02/2019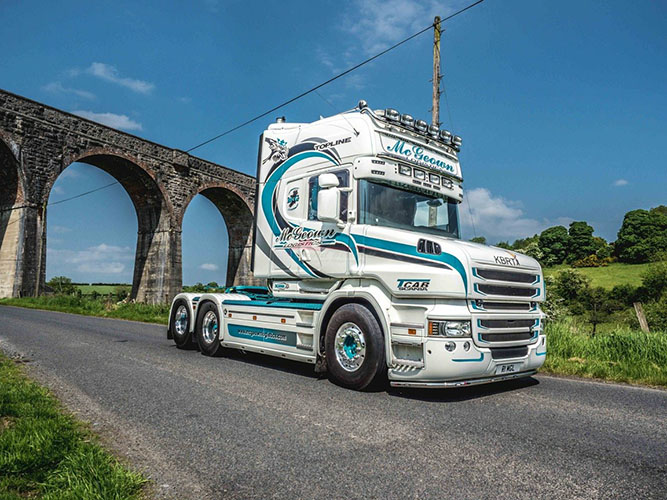 Punchestown Racecourse was the place to be on Saturday, June 9 and Sunday, June 10 last as it played host to the Full of the Pipe Truck Show. Gary McGeown of McGeown Logistics Ltd travelled down from his Newry base for the first time and it proved to be a worthwhile trip.
At McGeown Logistics, they have over 25 years' experience in transporting all types of goods from Ireland to the UK and Europe with many valued contacts Europe wide.
They pride themselves on their personal touch approach to business and all of their loads are driver accompanied. They work with all of their customers to provide customised solutions to meet their specific transportation needs
Based outside Newry City, they operate a fleet of over 15 refrigerated trailers, 30 Euroliners, flat trailers and Low Loaders, with a modern fleet of Scanias, Volvos, Dafs and Man Trucks.
Founded in 1971 by Francis McGeown, starting off with one truck, they now operate a fleet of 28 trucks and 50 trailers.
Francis' son Gary is obviously a chip off the old block because after learning all the tricks of the trade in his father's company, he went on out his own four years ago and set up McGeown Logistics Ltd.
In a short space of time, McGeown Logistics has developed a reputation as a leading International haulage company specialising in refrigerated services.
This has been achieved by offering excellent customer service, investing in a modern fleet and offering a UK, Ireland and Europe wide service.
They specialise in all types of refrigerated transport including: chilled, frozen and dry products.
"We transport refrigerated goods to Sweden and dry cargo to Spain while we also operate a multi drop service throughout Holland, Belgium and Germany," Gary revealed to Irish Trucker & Light Commercials.
"I concentrate on the continental work and we run a fleet of 10 Volvo, 6 DAF, 10 Scania and 2 MAN trucks while we mainly use Euroliner trailers and fridges."
A professional, reliable and friendly service is the cornerstone of Gary's approach to his transport business. Their lengthy list of long term customers is a result of the company's strong commitment to customer service and satisfaction.
"We pride ourselves on delivering on time, offering a reliable service and the large volume of work we do for repeat customers. We've worked with some of the same customers for over 10 years."
The ninth staging of the Full of the Pipe show this year certainly lived up to expectations as truckers from all over Ireland and beyond flocked to Punchestown Racecourse to proudly show off their trucks looking their best.
Gary attended for the first time and entered three of his company's trucks. It's fair to say that he enjoyed the break from the company's busy schedule.
"It was my first year at the show and it was a very enjoyable weekend. I usually do truck runs but that was the first static truck show I brought trucks to. It was very well organised and I'm looking forward to next year's show already!"
Having their fleet of trucks and trailers always in pristine condition is a major source of pride for Gary and his team of 30 employees at McGeown Logistics.
"We take great pride in the appearance of our fleet and having nice trucks in good condition is a big thing about my yard. Our trucks are our shop window and I think having them looking well makes a big difference.
"All of our drivers are hands on when it comes to looking after their trucks. We keep one driver to one truck and it is their responsibility to look after their truck. Having different drivers move from truck to truck tends to lead to problems in our experience.
"We are constantly updating our fleet and took delivery of a new DAF as recently as July."
McGeown Logistics are also currently in the process of expanding their warehouse and storage capacity and Gary expects that work to be completed by the end of the year.
"Business is going along fine. We had one slow month this year, March was very quiet but things picked up again in April. I'd be optimistic about future because there are signs that the economy picking up," he concluded.
When you employ the services of McGeown Logistics Ltd, you can rest assured that your product will arrive safely and on time. They are committed to offering a logistics service which is highly dependable and cost effective for your business.
Strong growth and retention of many long standing customers is testament to the fact that they recognise the importance of providing the very best in customer service time after time.
McGeown Logistics Ltd
T: +44 28 3025 1616
E: transport@mcgeownlog.com
Taken from Irish Trucker & Light Commercials magazine, Sept/Oct 2018, Vol 21 No 7