Fleet upgrade for Ireland's premier wholesale drinks supplier
27/03/2019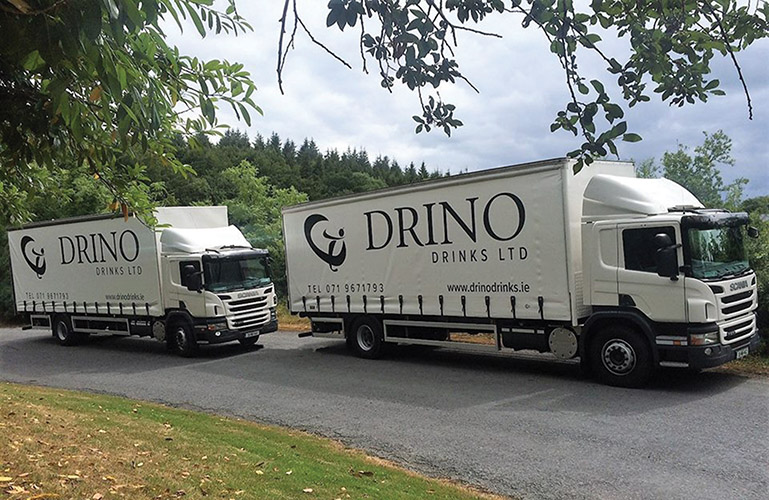 In June 2018, Drino Drinks Ltd. – the largest independent wholesale supplier of bottled drinks to the retail and licensed trades in the midlands and west – bolstered their superb fleet with the addition of two striking new Scania P230 curtainsiders. Irish Trucker visited the company's Carrick-on-Shannon base and met with General Manager Sean McAuliffe to find out more.
In business for more than half a century, Drino Drinks is one of Ireland's oldest wholesale suppliers to the licensed and retail trade. The industry-leading Carrick-on-Shannon, County Leitrim headquartered operation continues to go from strength to strength, having this summer merged with Mullingar based Tara Wholesale Bottlers to become the largest independent wholesaler in the west and midlands, servicing customers in counties Sligo, Leitrim, Cavan, Roscommon, Longford, Westmeath, Meath, Kildare, Offaly, Dublin and indeed nationwide.
In keeping with the growth of the business, two new Scania P230 curtainsiders were purchased from McElvaney Motors in June. "We effectively upgraded our existing Scania and also added a new truck," explains General Manager Sean McAuliffe. "The older one was due an upgrade, while we also needed to add an extra vehicle to the fleet with the addition of the Tara Wholesale Bottlers business in May."
As part of their ongoing fleet replenishment programme, Drino Drinks had previously added a new Volkswagen Crafter earlier in the past year. The services of Cawley's, Sligo, Nolan Motors, Longford and CD Carrick Commercials, Carrick-on-Shannon are availed of to ensure that all vehicles are maintained in tip-top condition around the clock.
Drino Drinks' island-wide customers come from a broad section of the market, including wholesalers, hotels, bars, night clubs, sports clubs, convenience stores, independent retailers, forecourts, newsagents, fast food restaurants and takeaways, coffee shops, cafes, etc.
The genesis of the business goes back to 1957 when founder / proprietor Pat McGovern, who was still in his teens at the time, together with his brother Mark commenced making squashes, cordials and glucose drinks at his home (Rantogue Stores) outside Drumshanbo in County Leitrim. This venture proved extremely successful, with drinks produced and sold under the registered brand name Drino.
In 1972, the factory was extended and a fully-automated production line installed. As plastic bottles began to replace glass ones in the market in the early '80s, it was recognised that the cost of reinvesting to move with the market was prohibitively expensive and Pat opted to wind down production, instead shifting the focus of the business to supplying the bar trade with long neck bottles and designer drinks – a range which was expanded gradually over the years.
As this business grew, in order to cater for the increased volume of trade, Drino Drinks relocated to a new state- of-the-art, purpose-built facility at Grange, Carrick-on-Shannon in 2005. Another landmark in the ongoing growth and development of the progressive, forward-thinking operation arrived this year with the addition of the Tara Wholesale Bottlers business, which leaves Drino Drinks in a decidedly strong position moving forward.
Unprecedented demand was recorded during the long, hot summer of 2018, leading to a thirstier nation and increased sales of drinks. Sean reveals that each truck could be making up to 20 drops per day. Careful planning and the input of an experienced team of drivers ensures that the logistics of the operation runs smoothly at all times. "The drivers know the routes inside-out and they know where they are going on a daily basis. It wouldn't work any other way."
At the time of writing, direct employment was generated for a team of 20. "We had a staff of 13 and that increased to 20 with the acquisition in May," Sean notes. "Everything is run out of our depot in Carrick-on- Shannon.". From here, a full range of bottled beers, spirits, kegs, wines, soft drinks, snacks, glassware and bar accessories is distributed to the licensed and retail trades.
"Even before May, due to our strong team, we had been achieving incremental growth year on year, albeit in a very competitive market. We've been growing slowly and in a controlled manner, but the merging of the two family businesses allowed us to take that growth to the next level.
"We're in an excellent location here, just off the N4 in Carrick', and we can conveniently service the north west, west, midlands and east, while we even have customers as far away as Cork and Limerick, whom we can get to pretty quickly due to the good roads network," says Sean.
Sean is confident that further growth is very much on the horizon: "That's certainly the plan for the next couple of years, to keep growing within our means and without overstretching ourselves. Our goal is to become the leading independent wholesaler in Ireland, not just in the west and midlands.
"Since my arrival in January of last year, we have been geared for expansion, although it would be fair to say that we probably weren't expecting to move as quickly as we have. The quicker-than-expected expansion has been down to a number of factors – the team we have here; the upturn in the marketplace, with more disposable income; and also the very strong local businesses here in Carrick-on-Shannon at weekends."
Sean has nothing but praise for the Drino Drinks drivers, reps, office staff and warehouse team. "All of our drivers have vast experience both nationally and internationally," he concludes. "They are very comfortable not just in operating their vehicles, but also in interacting with the customers they are supplying the product to. Our aim is to provide a professional and friendly service and our staff are at the forefront of this as they are the point of contact with our customers."
Drino Drinks Ltd.,
Grange,
Carrick-on-Shannon,
County Leitrim.
Tel: 071 9671793
Email: info@drino.ie
Web: www.drinodrinks.ie
Taken from Irish Trucker & Light Commercials magazine, Nov/Dec 2018, Vol 21 No 8