The best quality replacement tyres
16/09/2019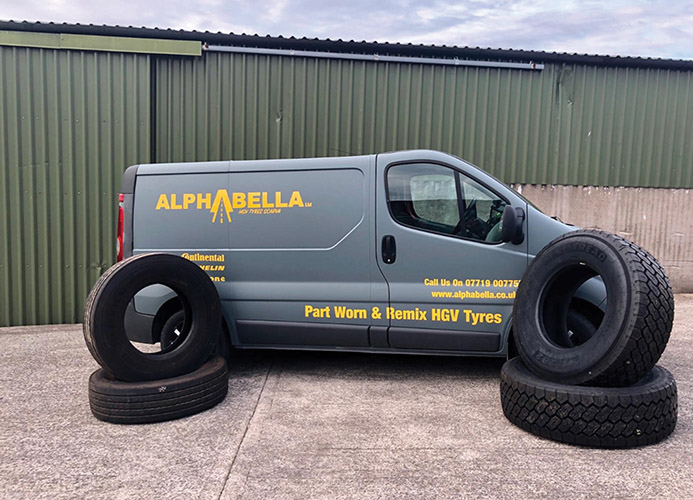 Looking for the most reliable and cost-effective replacement tyres available in the market today? Look no further than Alphabella Ltd because the fledgling family-run business can save you money while not compromising on quality.
Specialising in HGV next tread and premier brand part worn tyres, Alphabella Ltd commenced trading last October and is the brainchild of father and son duo, Paul and Bradley Baird.
In that short period of time, it has quickly established a name as a company that can be trusted to supply the highest quality products.
Managing directors Paul and Bradley built the company on the back of a wealth of knowledge gained through decades of running former Haulage company Joseph Baird Transport.
Based in Scarva, they aim to carry a large stock of product at all times to cater for the growing demand of part worn or retreaded tyres to the hauliers of Northern Ireland and beyond.
"It was something that was always in my dad's head," Bradley explained. "The market was there for it because there was no one else doing it. When you think about it, it's the smart choice to make – why pay £400 for a new tyre when you can pay £150?!"
Every casing considered for retreading by Goodyear, Dunlop has been inspected twice, once at the point of collection, and once upon arrival at the tyre manufactures factory. If they consider the casing to be in any way compromised, it goes for scrap. This gives the every end user the assurance that the product is well tested and quality assured.
Retreads are the replacement tires of choice for most truckers. Of nearly 34 million replacement tires purchased by fleets in 2018, more than half were retreads.
Retreads are not only cost effective, but they are dependable, reliable and safe.
Next treads are now much more popular than precures. The mould cure process takes an existing casing and fully replaces the whole exterior surface area of the tyre, from one sidewall bead to the other. Choose from Alphabella's quality assured Next tread Goodyear range for the life of a new tyre at a fraction of the price!
Meanwhile, their entire part worn range is hand-picked by them to assure quality on every unit and they only stock recognized brands such as Bridgestone, Pirelli, Goodyear and more. They have tried to keep selection simple with their buy easy guide consisting of their 70% and 50% left ranges.
Committed to saving their ever-growing list of satisfied clients' money, Bradley reports that business has been brisk since the turn of the year.
"It was slow at the start because the days of companies holding 20 tyres in a garage for a rainy day are in the past. They only use tyres when they need them. One of the biggest challenges we faced was getting our name out there but dad's reputation in the haulage industry has helped to open doors.
"We didn't expect big transport companies to come on board so quickly. Initially when we set up, we were looking at the one man, one lorry market but have pleasantly been surprised with the number of big companies that have come on board so far this year.
"Anyone who has bought them have been very happy with the quality of the tyres and we are very proud of the product we supply. We've brought key players into the market and, at a quarter of the price of new tyres, it really is a no-brainer."
Although still early days, Paul and Bradley have ambitious plans for expansion in the pipeline.
"We have one van on the road at the minute but would love to get to a stage where we have three to four vans out on the road covering the whole of Ireland. We don't offer a breakdown service but that is something we would like to branch out into. We'd like to get to a situation where if one of our customers found themselves in a tricky situation, we'd be able to get out to help them within an hour."
So who uses NextTread or Retreads? The answer is nearly 100 percent of the world's airlines use retreaded tyres; off road, heavy duty vehicles use retreaded tyres; school buses and municipal vehicles use retreaded tyres; HGV fleets and overnight delivery vehicles use retreaded tyres and Emergency vehicles use retreaded tyres.
Available Monday to Friday (9am-5pm) by appointment only, contact Paul or Bradley to find out more about the products and services they offer.
Taken from Irish Trucker & Light Commercials magazine, July/August 2019, Vol 22 No 4