Changing times
18/01/2020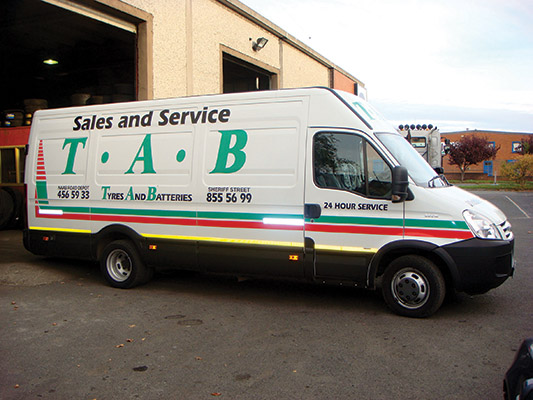 The tyre industry has undergone a lot of change over the years as the standard of tyres have improved to meet the demands of health and safety legislation that is ever-changing.
Companies involved in this sector have had to move with the times or be left behind and one company that has continually improved their standards are TAB Tyres & Batteries Ltd.
For the past 39 years, the company which was established and is still run by Philip Lynch delivered a service to a large customer base that is rivalled by few.
From their locations in the Western Industrial Estate on the Naas Road and Castleforbes Industrial Estate, just off Sheriff Street and close to Dublin Port, they provide a wide range of services including new tyres for cars, light commercials, trucks, agricultural vehicles and plant equipment. They also provide a wide range of batteries for cars, light commercials and trucks, while other services include Laser Wheel alignment, computer balancing, puncture repairs, alloy wheels, breakdown service, 24Hour nationwide cover.
The tyre industry is one of the most competitive to be involved in and Philip admitted to Irish Trucker that you have to provide the right type of service or be left behind.
"There are always changes to legislation and recently there has been an anti-dumping tax brought in for every tyre that is brought into the country and this has saw the industry slow down on buying from the likes of China," said Philip.
"The market has changed and it is a very competitive industry to be involved in. You can buy tyres at any price you want now, but at the end of the day you will pay that bit more for quality tyres and that is what we provide and always will do."
Philip doesn't feel that the industry is under any threat despite the many changes and the overheads involved.
"Look there will always be a need for tyres, simple as that. No matter what happens, there will be a market for tyres and you have to cater for that market.
"There seems to be always issues arising for the price of tyres to go up, whether it be an oil crisis or rubber crisis, the market trends change on a regular basis."
EC regulation requires tyres to have performance labels, with the aim of encouraging people to purchase tyres with superior environmental and safety performance, and also encourage tyre manufacturers to produce tyres whose performance exceeds the minimum requirements specified.
"We carry all the major brands and we place a great emphasis on supplying quality tyres to our customers, many of who have been with us years."
TAB Tyres continue to provide an excellent services with four mobile units operating 7 days a week, 365 days a year to ensure that there customers are not left stranded.
"Providing a quality service is essential to running a successful business and our customers know what to expect off us and it is up to us to maintain those standards, regardless of what changes are made to the industry."
TAB Tyres and Batteries have alliances and partnerships with all the major manufacturers - Bridgestone, Dunlop, Goodyear, Michelin, Pirelli, and can supply all makes of tyres including Aeolus, Apollo, Avon, BF Goodrich, Boto, Chengshan, Continental, Debica, Double Coin, Falken, Federal, Firestone, Fulda, Hankook, Kumho, Maxxis, Mitas, Nankang, Nexan, Othsu, Sava, Toyo, Triangle, Uniroyal, Wanli, Zeetez etc.
Safety is paramount and good tyres on a vehicle are essential in order to avoid any unnecessary accidents.
"A lot of people seem to think that they are getting a good deal by buying second hand tyres, but they are not. They will only last a quarter of the length that a new tyre will last, which means that they are buying four times as many tyres then they should be."
TAB Tyres give their customers the safety of mind that when buying a tyre, they know that they are getting a good product at a competitive rate.
"We offer the most competitive prices across our vast array of tyres. We don't compromise on quality or safety with any of our tyres and expect only the best from the brands we stock."
Through their 39 years in business, the company has picked up unrivalled experience and this reflects in how they can cater with any customers' queries.
"We offer our customers a wealth of knowledge and know how, accumulated through 36 years' experience in the business. The motor industry is a fast-paced and competitive industry, which is why we are constantly striving to improve our level of service.
"This is done both through the advancement of technology and by keeping in touch with the changing needs of our loyal customer base. We adhere to the highest safety standards to ensue your vehicle is fully functional at all times."
TAB Tyres & Batteries Ltd
Unit 8 Western Ind Est,
Naas Road
Dublin 12
Phone: 01 4565933
Additional Location:
North Wall Branch: TAB Tyres & Batteries Ltd
Unit 212b,
Castleforbes Ind Estate
off Sheriff Street
Dublin 1
Phone: 01 8555699/8555919
Taken from Irish Trucker & Light Commercials magazine, October 2019, Vol 22 No 6