Quality truck tyres designed for European roads
24/01/2020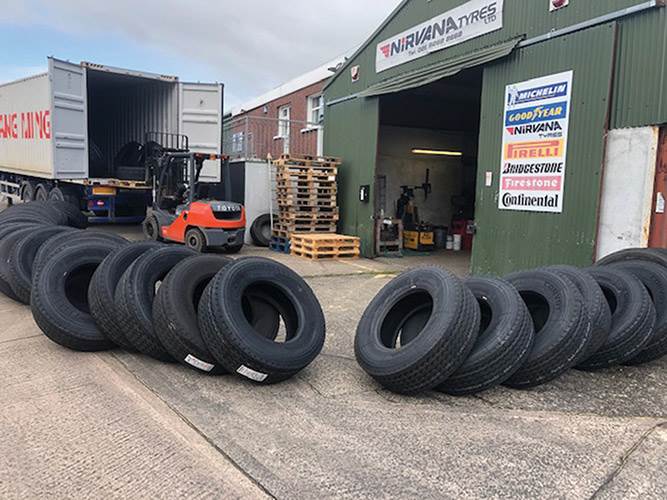 Shortlisted in the Tyre Distributor of the Year category of the 2020 Irish Auto Trade Awards, Nirvana Tyres (Nirvana Truck Tyres Ltd) in Hillsborough, Co. Down are stockists of premium truck tyres that are designed for the European market and conform to all EU regulations. Co-director Stephen Whitford explains more.
Since its formation in August 2014, Nirvana Tyres has established itself as a leading distributor of quality truck tyres to customers in Ireland and the UK. The company's range of tyres benefit from its dedication to Research & Development at it Tyre Design & Development Centre, with continuous improvements in rolling resistance and compounds for improved fuel economy and increased mileage.
All tyres are manufactured in a world-class facility with ISO 9001:2000 accreditation and are put through vigorous on-site quality control testing to ensure quality. The Nirvana truck tyre range also benefits from worldwide material sourcing with rubber supplied by Euroma Rubber in Malaysia, carbon black from Cabot, USA, steel fibres from Bekaert in Begium and compounding from Exxon, USA. The range has a unique shoulder construction which reduces heat generation that ultimately improves the life of the tyres.
"We set up the company five years ago and forged links with a leading manufacturer in China specialising in truck tyres," explains Stephen, who runs the company along with Raymond Johnston.
"The manufacturer is currently building a new factory in Thailand which is good news for us because we pay a hefty levy for Chinese imports. It will allow us to sell our tyres for less than what we are selling them for at the moment, which is close to premium brand prices.
"We have had fantastic feedback from our customers with regard to the quality of our product and are in the process of establishing a dealer network. Up until now, we've supplied tyres directly to our small but growing client-base from our warehouse in Hillsborough and from our smaller depot in Ballinamallard, Co. Fermanagh. The tyres can be supplied individually or in containers to the end user."
Originally, the Nirvana range consisted of the following tubeless all steel radial tyres – Nirvana Convoy 385/65R22.5, Nirvana Convoy S 295/80R22.5, Nirvana Convoy D 295/80R22.5, Nirvana Convoy S 315/80R22.5 and Nirvana Convoy D 315/80R22.5. However, to ensure optimum quality, the company decided to focus on the Nirvana Convoy 385/65R22.5 or Super Single 385/65R22.5 as it has become known.
"Over the past two years, we have concentrated on the Super Single which is a quality, mid-range tyre that is suited to a variety of trucks. Based on our customers' feedback, we have worked closely with the manufacturer in China to test the quality and develop a tyre that is best suited to European roads. They have an amazing Research & Development facility over there and we believe the Super Single is as close to the finished article as you'll get.
"We're happy with the construction and compound of the tyre, while we're also satisfied with the specification. We're really happy with where the Super Single is at," Stephen says.
Nirvana Tyres has built up a loyal customer-base in both Ireland and the UK, despite not having a dealer network as of yet. Among its Irish customers are Lyons European in Moira, Craigavon, MST Transport, also Moira, Craigavon, GS Gordon & Sons in Lisburn, Kelly European, also Lisburn, Barry Transportation in Dublin, Morrow Fuels in Lisburn, TJ Hood Transport in Crumlin, Belfast, Pat McGowan Transport in Ballybofey, Co. Donegal, Jennings Fuels in Kesh, Co. Fermanagh, David Jameson Transport in Craigavon and McCluskey Transport in Lisburn.
"We have over 150 customers between Ireland and the UK who we supply directly to on a daily basis. We are now ready to take the next step which is establishing a dealer network and bringing our tyres to a wider market. We're actively looking for main dealers to distribute our products. It's all about trying to get your name out there."
Stephen Whitford and Raymond Johnston have worked hard to bring to the market a premium quality product that combines superior safety with mileage, resulting in cost savings over the whole tyre life. They are grateful for all the support they have received to date and are confident that Nirvana Tyres will become a household name in years to come.
For your next new truck tyres, be sure to give them a call.
Nirvana Tyres
(Nirvana Truck Tyres Ltd)
18 Aghnatrisk Road,
Hillsborough,
BT26 6JJ
Telephone: +44 (0)2892 688338
Email: stephen@nirvanatyres.com / raymond@nirvanatyres.com
Web: www.nirvanatyres.com
Taken from Irish Trucker & Light Commercials magazine, Nov/Dec 2019, Vol 22 No 7