Wheels of Fortune
19/08/2020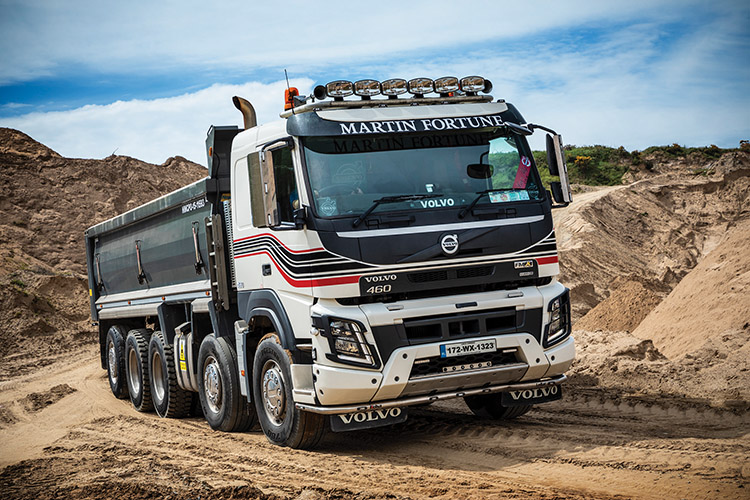 From their well-appointed base in The Ballagh, County Wexford, husband-and-wife team Martin and Sheila Fortune run an exceptional transportation company specialising in tipper work and readymix concrete. Irish Trucker interrupted their busy schedule to find out more about this superb industry-leading operation, which has seven stunning, immaculately-maintained trucks on the road every day.
Wexford man Martin Fortune has always been a true trucker at heart so it was almost inevitable that he would one day set up his own haulage company. And, true to form, the eponymous business, which he runs alongside his wife Sheila, has gone from strength to strength over the past 14 years, delivering unrivalled service levels on time every time, always professionally and invariably at competitive rates.
"I started up in 2006. I had been working as a production manager in a packaging company and spotted an opening to get into haulage. I decided to go for it because it's what I always wanted to do," he reflects. "Roadstone were looking for a tipper truck in Wexford and a friend of mine recommended it to me. I met with their management and we went from there. I always had an interest in trucks anyway so I bought my first Volvo 8x4 tipper and put the wheels in motion."
Of course, as it transpired, '06 was hardly an ideal time to establish a transport company as the collapse of the Celtic Tiger was imminent and the construction and haulage sectors were hit hardest of all. "A lot of people have said that but I was lucky in that I gained a strong customer base and they have been very loyal to me," Martin continues. "I did a lot of Roadstone work at the start and travelled a lot to Dublin at the time … that kept us going."
Today, a magnificent fleet of seven trucks – six Volvos and one MAN – is at the heart of the business. "We did all tipper work up until 2014," the personable Model County man continues. "It was then that I purchased my first readymix bottle for Roadstone and we have two of them now – a MAN mixer and a Volvo mixer with telescopic chute. They work in the Wexford / Enniscorthy region and are in the Roadstone colours.
"We also run three 8x4 tippers and two of the new five-axle Volvo tippers, which were purchased in 2017 and 2018. These can carry 27.5 tonne loads [with a gross weight of 42 tonnes], which is a big weight, and this increased payload makes them very efficient and economical for certain jobs."
Working for local family business MSK Silversands in Screen, Martin Fortune Transport Ltd. deliver top-quality equestrian sand and silica sand nationwide to the sports (equestrian, golf clubs, GAA pitches, etc.), playground and building sectors, whilst also continuing to work on a daily basis for Roadstone, for whom they have tippers drawing out of Arklow, Brownswood, Bennettsbridge and Kilmacow as well as the aforementioned concrete bottles. In addition to this steady, repeat business, Martin and Sheila also secure a lot of work with large developers, local builders and the farming community.
Having forged a strong reputation for quality service over the past 14 years, Martin Fortune Transport benefits greatly from both customer loyalty and positive referrals. Such goodwill can only be secured through hard work and dedication…
"Providing a reliable and consistent service involves a lot of work afterhours, behind the scenes," Sheila points out. "You have to do whatever it takes to look after your customers, It is extremely important. Whether it's one load or 100, we look after them all equally. Customer service has always been a priority for us."
"You have to be on call around the clock and the buck always stops here," Martin confirms. "Sheila is a big part of the business. She looks after all the office work and the admin. You have to enjoy it, too. You can't really look at it as hard work and graft. We're very happy with what we are doing and we're enthusiastic about it. We deal directly with everybody and we're very hands-on, so we're well able to look after all customers big and small."
The fresh fleet is regularly replenished, with 2017, 2018 and 2019 models complementing 2007 and 2013 reg units. "I also still have the '06 tipper I started with," Martin notes. "It has 1.7 million kilometres on it and is still going strong. You'd hope to hold onto that one. I drove it myself for seven years and everybody who joins the business tends to start off driving it."
All the trucks are sourced through McCarthy Commercials. "They give a great service and Volvo are very reliable and easily maintained," says Sheila. "You work them hard and they never let us down. They are in and out of sites and they often operate in tough conditions off road, but they are incredibly reliable once you maintain them properly."
As a proud trucker, it's vitally important to Martin that the trucks are always well presented. To this end, he makes sure that they look good at the start of every working day: "Yeah, I'd be big into the appearance of the trucks. They all look the same and are instantly recognisable.
"I'm very lucky to have good drivers, who show great professionalism in their work and how they look after the trucks. It's the drivers who make the company … I can only drive one!"
Going into 2020, Martin Fortune Transport Ltd. have a busy year ahead of them but there's no room for complacency. "You're always looking ahead, planning for new projects down the line," Sheila states. "We do a wide variety of work, including a lot of muck shifting for developers, and you have to be prepared to go wherever they need you. We're flexible, have a good fleet and good people, and we're in a good location to cover a wide area across Wexford, the south east and further away if requested."
Making sure there's never a dull moment in the day, Martin and Sheila also run a family farm and have three young sons, aged seven, five and three! "They're showing a great interest in the trucks already, which is great to see," Martin quips. "The thing with haulage is, if you don't enjoy it then you probably shouldn't do it. It's only a job at the end of the day and you have to be happy in it. We are very happy doing this and we're lucky in that respect.
"This is a big GAA stronghold, too, and we're involved in the local hurling club, Oulart – The Ballagh. The trucks are my passion and the family business is extremely important to us, but you need other outlets, too, to provide a balance, and that's where the GAA and the farming come in."
Martin Fortune Transport Ltd,
Courtclough,
The Ballagh,
Enniscorthy,
County Wexford.
Tel: 053 91 86857
Mobile: 087 648 5289
Email: info@martinfortunetransport.ie
Web: www.martinfortunetransport.ie
Published in Irish Trucker & Light Commercials magazine, March/April 2020, Vol 23 No 2