P Carberry Sand and Gravel - a family service
18/11/2020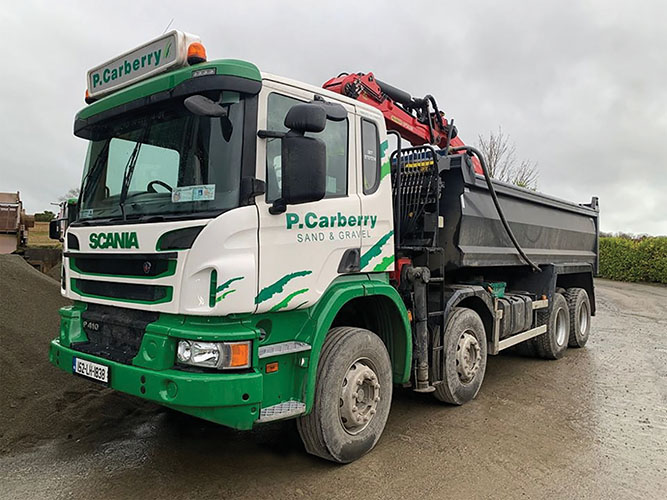 There is a lot to be said for a family run business. There seems to be a greater deal of trust between the customers and owners for one, while generally family run businesses have greater experience as they most likely date back at least a generation or two.
For this month's edition of Irish Trucker, we profile Co Louth based P Carberry Sand and Gravel which are a family owned business in Collon who provide sand and gravel in the north east area.
In business since 1978 P Carberry Sand and Gravel specialise in the supply of sand and gravel and decorative stone to commercial and domestic properties.
They also provide screened top soil as well as a tipper and digger hire service. Patsy Carberry established the business 42 years ago and he is still involved to this day. However, we spoke to Patsy's son Shane who gave us a run down on exactly how the business operates on a daily basis.
"We provide a wide range of services to a large customer base," said Shane. "We are back busy enough now following a quiet period. When my father set up the business, he was initially supplying sand and gravel to the CIE, and then he was subbed into Roadstone with the business growing from there.
"Site clearance is a big part of our work and we would have 17 tippers operating as well as two grabs. We have an experienced team of drivers/operators here, many of whom would be with the company for years.
"All our drivers are trained to the highest level of service and professionalism with up to date driver CPC's. Our 8-wheeler Tipper Trucks are ideal for the removal or haulage of soil/concrete etc."
The fleet of truck for hire are all kitted out with the latest safety equipment such as reversing beepers, cameras and flashing beacons
"The majority of the fleet is Scania and 90% of them would have come from McElvaneys', while we also have a Volvo and an Iveco. The trucks are kept in excellent condition and we would do all our own maintenance work."
Their topsoil undergoes a screening process where the soil is put through a screener and removes large stones. Delivery is made with a grab truck enabling them to lift bags over walls and awkward areas, at the customers convenience. Additions of sand compost can be added to the topsoil based on the customer's requirements at an extra charge. Delivery charge may apply depending on quality and location.
"We would supply both the domestic and commercial markets and the work would be 50/50 between the two. We would carry out a lot of repeat work for customers that have been with us years. Most of our workload would be in the north east, but we do go to Dublin from time to time."
The Carberry's supply a wide range of decorative stone such as quartz, granite, beach pebble, plum slate, flint, marble and sandstone for a wide range of uses.
Gravel is available in a variety of sizes, P. Carberry delivers gravel to the public, trade customers and large industrial companies throughout Leinster. Offering flexible delivery times, P. Carberry delivers all types of gravel including roadway gravel, ornamental gravel, mulch, building stone, drainage stone, chip coloured stone, limestone and garden mulch.
Weed control and drainage are two of the benefits of using stone in landscaping projects and as an experienced company, P. Carberry can advise on quantity and costing, helping each customer to select the decorative stone best suited to their needs.
"We would supply a lot of gravel and decorative stone to customers. These can be used for a variety of reasons and the decorative stone can be used for landscaping, paving, flowerbeds, potted plants, ponds, fountains, graves, paths, and patios. We deliver in tonne bags, half load or by full tipper load."
Of course there are various types and sizes of building sand, Plastering sand, Paving sand / Batch, 10mm pebble, 20mm pebble, 804 /5rr, 3' down, 2' down, 2' round, 14mm chippings, 20 m chippings
and Shale rock, all of which are supplied by this family run business.
Delivering from Collon throughout Leinster, P. Carberry sand and gravel can handle deliveries large and small, with trucks that can deliver loads from 1/4 tonne up to 20 tonnes.
Shane admits that Roadstone are a great company to be involved in as they continue to work with the country's leading supplier of aggregate products.
"We have been sub-contracting work off Roadstone for many years now and we would have a very good working relationship with them."
Shane added that the amount of permit work has increased due to changes in legislation and regulations.
"We have all the necessary permits to carry out our work, while health and safety is paramount and it is something that we take very seriously. The safety of our employees comes first."
As stated, Shane revealed that many of the drivers have been with them years and their experience is invaluable to getting the job done correctly.
"There are ten employed here and they are all very good drivers. It makes our job so much easier when you have drivers that you can rely on.
"Going forward, we feel that the future is bright, we have a good deal of work on and hopefully that will continue. We have a fantastic customer base and our aim is to continue supplying them with the level of service that they have become accustomed to."
P. Carberry Sand and Gravel
Mullacapple,
Collon
Co Louth
Phone: 0419826278
Shane: 0879797014 Patsy: 087-2552979
Web: www.pcarberrysandandgravel.ie
Published in Irish Trucker & Light Commercials magazine, Sept/Oct 2020, Vol 23 No 4