Value for money and quality products 
04/03/2021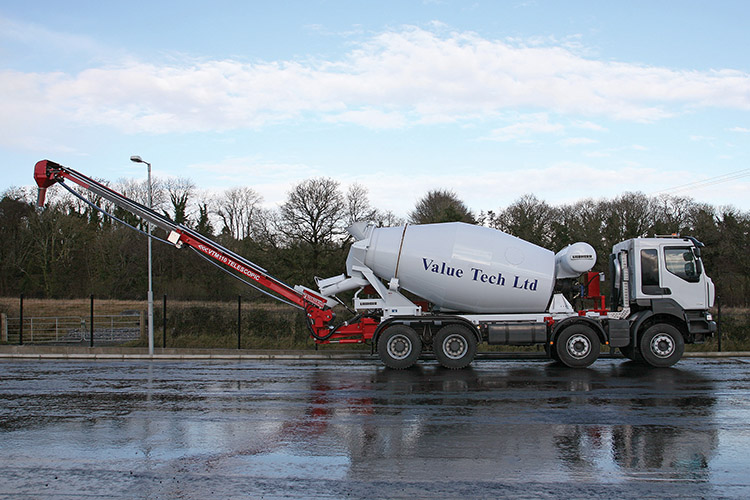 Based in Kanturk, Co Cork, Value Tech Ltd manufacture and distribute a wide range of equipment for concrete and materials handling applications. Irish Trucker found out all about the business after touching base with its Managing Director, Tim O'Riordan recently.
This year sees Value Tech Ltd mark 25 years in business, as the Co Cork-based company continues to offer its customers quality products and value for money.
Set-up by Tim O'Riordan, the company currently employs 14 staff from its premises in Dromalour Industrial Park in Kanturk and to date manufacture and distribute a wide range of equipment for the concrete, materials handling and soil remediation applications. These products are sold directly to customer / end user in Ireland and the UK but for other export markets such as Scandinavia, USA, and Canada local dealers are appointed to market the products and provide after sales support.
Tim O Riordan outlines: "I set up my first business in 1985 when I think unemployment was at an all-time high close to 20%, that recessionary period I think continued to the early nineties and emigration was rampant.
"The main reasons for the success of the company in a sector which has been particularly volatile to economic activity is the continued investment in R & D to improve existing products and the development of new products in response to customers' demands.
"In this regard Enterprise Ireland has been instrumental over the years to help fund such activity and provide specialist expertise. Also continually striving to achieve high quality and provide accessible after sales service and support to customers has been cornerstone to the longevity of the business."
Tim's son Conan O'Riordan who is an engineering graduate heads up the Purchasing & Spare Parts departments of the business. There is a fully comprehensive after sales and support service for the company's products and indeed some cases for products not originally sourced from Value Tech available to customers both at home and abroad.
Irish Trucker caught up with Tim O'Riordan recently to learn more about this diverse venture down south and the state of business at the moment.
"Business is doing ok right now," Tim explained. "Covid upset our plans early in the year and we were partially closed from the end of March until late May.
"2020 is not going to be our greatest year but we have to get on with it and just wait and see how things turn out."
Indeed 2020 has been a challenge for most businesses throughout Ireland and, like any other, Value Tech Ltd will look to grind it out in these unprecedented times.
As it stands, the company is the sole Irish distributor for LIEBHERR Truck Mixers and Conveyors and HMF Truck Mounted Cranes. Both Liebherr and HMF are north European equipment manufacturers based in Germany and Denmark respectively and are renowned worldwide for high quality, cutting edge technology. To help sell these products in Irish market which tend to be the more expensive than the competition, Value Tech develop and manufacture a range of complimentary products to provide more complete niche solutions for its customers.
Such solutions include the innovative Value Tech VTM 110T radio controlled low level truck mixer mounted telescopic concrete conveyor developed in 2005 from an idea incepted by Tim O'Riordan. This conveyor design had many advantages over other types primarily in the areas of safety, operator friendliness, and labour saving and proved to be an instant favourite for on-site placement of readymix concrete. The concept has since being configured to mount on front discharge mixers in USA.
Other solutions include Value Tech VTC 90T Truck Mixer Telescopic Drop Chute also optional with radio control, Value Tech Swop Body System which provides customers maximum utilisation of expensive HGV chassis / driver by allowing them change from mixer / conveyor / tipper / crane body quickly, safely and with minimum weight penalty, and semi-trailer mixer with PTO or auxiliary engine drive system.
All of the equipment is constructed from top quality high tensile steels giving maximum strength, and increased payload to yield maximum return on investment for the customer.
Both the Value Tech truck mixer telescopic conveyor system and truck mixer telescopic drop chutes provides ready mix concrete companies or their subcontractors with a convenient and cost-effective solution to concrete delivery and site placement requirements.
Truck mixer turnaround time can often be reduced while increased revenue can be achieved by accurately placing the concrete for the customer. The concrete can be poured up to 16.5 meters from the truck, to a height of up to 8 meters and a depth of 2 metres.
Linear telescopic movement allows for a 20-meter length of wall pour without moving the truck while the conveyor also rotates through a 270-degree envelope about the rear centre line of truck mixer to ensure accessibility to large area for concrete placement.
The Value Tech Truck Mixer Conveyor System provides maximum benefits for operators engaged in the ready-mix concrete business both in terms of revenue return on investment in equipment and the potential for generation of new business with the increased service provided.
"We would have first taken over the truck mixers in Ireland for LIEBHERR around 1997/98."
Becoming the sole Irish distributors for LIEBHERR Concrete Technology is a far cry from where Tim O'Riordan and Value Tech Ltd first started out back in 1995.
Things were slow getting off the ground back then but it seems they managed to find their feet in the space of couple of years, having earned the LIEBHERR dealership.
Prior to '95, Tim operated another business venture before founding Value Tech Ltd.
"I was a production manager for an engineering company in Cork in a previous life," he revealed.
"I started my own operation in 1985 and ran it for 10 years until I saw a niche in the market for the kind of products we currently promote."
The rest, as they say, is history.
Today, Value Tech Ltd has a team of 14 staff although this was to be increased in 2020 as the company engages in further R & D investment programme. This was temporarily delayed due to COVID 19 but is now up and running again.
In concrete alone, the company manufactures and distributes truck mixers, articulated mixers, tractor drawn mixers, truck mixer conveyors, truck mixer telescopic-chute, tele-belt trucks, concrete batching plants, concrete recycling plants, pan mixers for wheel loaders and agricultural tractors or skid mounted versions.
Things have come a long way in 25 years and today Value Tech Ltd has a glowing reputation all over Munster (and beyond) for its impeccable service.
Asked what the secret to success over the past quarter of a century has been, Tim responded: "I think it's down to quality and service. We're still getting the repeat business here because we take exceptional care of our customers.
"We provide a one stop shop where we manufacture, install, paint and commission in-house and offer our customers a full after sales service."
Looking towards the months ahead, the Managing Director is optimistic and says the company has a couple of ideas in the pipeline that he hopes will come to fruition in early 2021.
"We have a few ideas for process and equipment next year," said Tim.
"We are hoping to produce more products here in the early part of 2021. We'll just have to see how things go between now and then."
Value Tech Ltd.,
Dromalour Industrial Park,
Kanturk,
Co. Cork
Tel: 00353 29 51000
Fax: 00353 29 51510
E-mail: info@valuetech.ie
Web: www.valuetech.ie
Published in Irish Trucker & Light Commercials magazine, Jan 2021, Vol 24 No 1