Pilot and permit service solutions par excellence
20/05/2021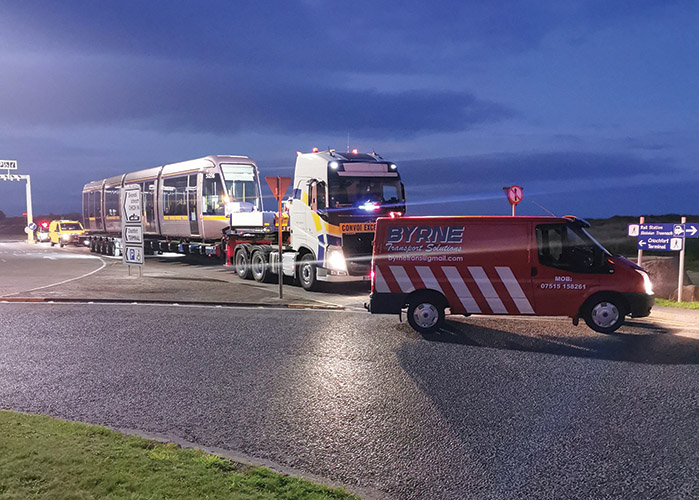 Strategically located close to all the major road networks and ports, Byrne Transport Solutions offers exceptional pilot and permit services to the transport industry. Managing director Steven Byrne explains more.
Established in 2015, the Dromara, Co. Down-based company provides a professional and competitive service to the industry pertaining to the movement of abnormal and normal cargo throughout Ireland, the UK and Europe. The family-run business specialises in abnormal load escorts, permits / notifications, traffic management, route surveys, route planning and freight forwarding. It is located just 30 minutes from Belfast and Warrenpoint ports and only 90 minutes from Dublin port. Rosslare port is also within easy reach.
Byrne Transport Solutions' escort vehicles are fully-equipped to meet the Code of Practice and are ready to work anywhere on the island of Ireland. The company can also provide trained steersmen and banks man to assist in loading and unloading transport, and a service tailored to meet its clients' exact transport requirements, whilst ensuring a safe journey for both load and road users alike.
The company acts as an agent for all abnormal load / oversize load permits for Northern Ireland, Ireland, the UK and Europe. This includes police notification and all bridge and structure authorities. Using your exact load dimensions and transport details, it carries out route surveys resulting in a full report on the selected route, details of problem areas, solutions, permits and traffic management requirements. Byrne Transport Solutions specialises in route selection surveys and feasibility studies for wind farms and all types of heavy transport.
Planning a cost-efficient and safe route is vital in meeting your requirements. To this end, Byrne Transport Solutions has experience on all routes in Ireland. Whether you have a wide load, long load, heavy load or high load, it can assist you with details of road types, bridges, traffic restrictions and so on.
Managing traffic when moving oversize loads ensures a smoother, safe journey for all road users. Byrne Transport Solutions can take care of all police notifications and arrange road closures, contra flows, street furniture removals etc. In addition, the company provides traffic cones, kerb supports, no parking signs, two-way radio etc. For longer term or larger projects like wind farms, it provides detailed traffic management plans.
"Any load that's wide, long, high or heavy, we can provide the pilot and permit services to it," says Steven, who has a wealth of experience in the heavy haulage industry.
"Most of the loads we deal with are for European hauliers. Our pilot cars are Code of Practice compliant and escort their cargo from collection to delivery point under the supervision of our qualified drivers. We act as permit agents for all abnormal load / oversize loads and carry out route surveys for them before they leave for Ireland. This typically includes measuring bridge heights and identifying the location of traffic lights along the route.
"Our detailed survey reports identify all points along the route where enabling works are required to allow their load to pass safely."
Byrne Transport Solutions has been involved in everything from the transportation of LUAS trams to wind turbines. "We helped with moving LUAS trams from Rosslare to Sandyford in Dublin as well as with two 140-tonne hydraulic presses from Dublin to Kilrush in Co. Clare which came in from Germany."
Steven and his team provide a 24-hour service for very good reasons: "Whereas 90% of the loads we escort from Dublin Port take place between 10pm and 4am due to restrictions around the use of the Port Tunnel, the police in Northern Ireland prefer to see abnormal loads moved during the day. You have to be available 24/7 as a result."
Byrne Transport Solutions' three escort vehicles provide nationwide coverage for heavy transport projects of all kinds, guaranteeing a safe and compliant delivery, whilst ensuring the required permits / notifications are in place for the movement of your cargo.
Steven has been in the transport business since he started washing trucks at the age of 13. He served his time as an HGV mechanic fitter with RK Trucks in Carryduff before joining Mar-Train Heavy Haulage in Lisburn. It was here that he got his first taste of escorting abnormal loads. He also worked in the office and drove on the Continent.
"I owe a lot to Tim Martin in Mar-Train for the opportunities and experience he gave me."
Steven then worked in refrigerated transport for Carna Transport and spent four years in the office of Woolsey Freight in Moy before having a two-and-a-half-year stint with Hannon Transport where he mixed organising and planning exports with driving. He set up his own company five years ago and hasn't looked back since.
"We're going from strength to strength," he enthuses.
"I've been involved in the transport industry all my life and know nothing else at this stage. I also have a Volvo tipper truck on the road which operates out of various quarries in the Down and Antrim areas. I wouldn't be able to juggle the escort and quarry work without the support of my fiancé Adina and my father Vaughan. They're a great help to me."
Steven would like to take this opportunity to thank his customers and suppliers for their continued support. When it comes to traffic management, abnormal load services, permits / notifications, route surveys, route planning and freight forwarding, Byrne Transport Solutions won't be beaten!
Byrne Transport Solutions
Woodvale,
Dromara,
Co. Down
BT25 2JB.
Telephone: 0044 7515158261
Email: byrnetrans@gmail.com
Web: www.byrnetransportsolutions.com
Published in Irish Trucker & Light Commercials magazine, February/March 2021, Vol 24 No 2