A Premier success
22/07/2021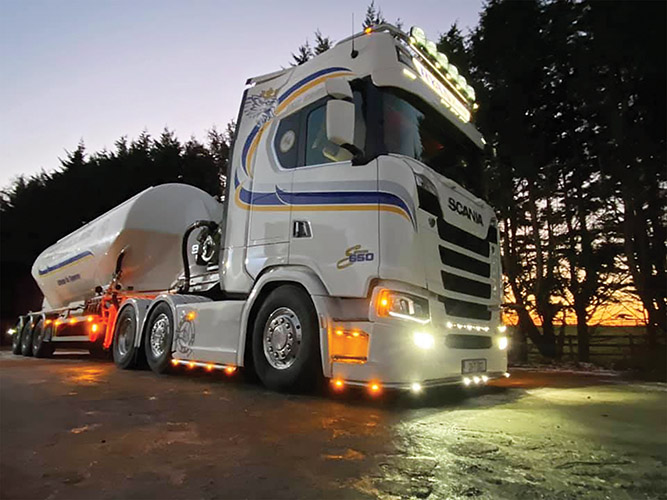 Experience is vital in the haulage industry especially in the current economic climate as every decision has to be made with the utmost precision and to this end, Ryan Haulage has that commodity in abundance.
For many involved in the haulage industry, it is a way of life and has been for as long as they can remember. There's a saying that 'some are born with a silver spoon in their mouth' but for anyone born into the transport sector, it was a case of being born with a steering wheel in their hand.
That is something that can be certainly attributed to Tipperary based Philip Ryan who has had a love of trucks all his life and it is no surprise that today he runs his own haulage fleet.
Ryan Haulage was established 49 years ago, as Philip Ryan Snr started the business in 1972 with his son taking full control nine years ago.
Tipperary has always been a haulage stronghold with many operators based in the Munster County and Philip Jnr's passion for trucks dates back as long as he can remember.
"I grew up around trucks and have always had a passion for them if I'm honest. I suppose I get that from my father, but I don't think it's a bad thing," said Philip.
Operating a fleet of four trucks which comprise three Scanias and a DAF, Ryan Haulage specialise in bulk cement which they have been drawing for Irish Cement over the course of many years.
Of course, Covid-19 has slowed business down slightly as they are involved in the construction industry, but Philip revealed that they are still tipping along and ready to get full back in action whenever they get the go-ahead.
"You would notice that there is a slow down at the moment and only certain jobs are still going. You just hope that it won't be for too long and that we can get back to normal sooner rather than later."
Ryan Haulage is very much a nationwide company as they draw from Irish Cement plants in Limerick, Drogheda and Dublin, while they have two trailers in Kilsaran's plant in Tipperary hauling blocks to various sites.
Philip takes great pride in his trucks and updates the fleet on a regular basis, with a new Scania arriving from Westward Scania in early January.
"The new Scania was put into action this month. We look after the trucks and keep them in pristine condition with any small maintenance work done by ourselves, while they are all under warranty and go back to the main dealer for servicing and any other work."
Philip revealed that he is delighted with the drivers he has, most of who have been with him for many years and they bring huge experience to the company.
"The drivers are very good and I'm lucky in that respect. They look after the trucks like they are their own".
The haulage industry has many overheads to contend with as diesel and insurance are two of the biggest bills companies must look after, but Philip stated that the situation is not as bad as it used to be.
"There was a time when diesel and insurance were through the roof, it was getting to a critical stage, but diesel has come down a good bit, while the insurance seems to have dropped a little as well.
"In this business, it is hard to turn a profit, but I'm lucky to be working for very good companies, who pay on time. They expect high standards, and we aim to deliver in that respect. We do the work to the best of our ability and I think they are happy with that, but there is no room for us to rest on our laurels and we know that we have to maintain that level of service or even improve on it if we can."
Philip's downtime revolves around trucks as he goes to shows both here in Ireland and the U.K and he is a regular figure on the winner's podium, although all shows were cancelled in 2020.
"I do miss the shows if I'm honest. I do like bringing the trucks to them. We have the Tipperary colours on them, and the trucks are well known at the shows. Hopefully, we will be able to go to some shows this year, but we will just have to wait and see."
There is no doubt that Philip will be looking to pick up further silverware when the shows do start again, but for the time being the focus is fully on work and providing that excellent service that his customers are used to receiving over the years.
Contact Details:
Ryan Haulage Littleton, Thurles,
Co Tipperary
Mob: 086 8334377
E-Mail: ryanhaulage@hotmail.com
Published in Irish Trucker & Light Commercials magazine, April/May 2021, Vol 24 No 3