School of Excellence
19/08/2021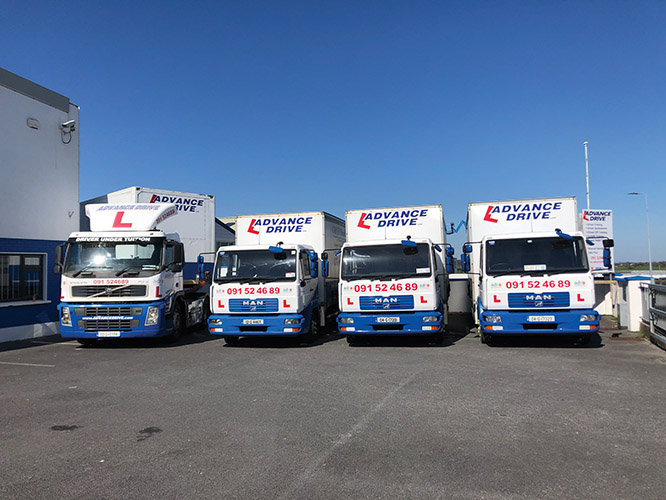 Celebrating 30 years in business, Advance Drive is one of Ireland's largest and most successful driving schools with a pass rate second to none.
The award-winning family-run business is the only driving school and training centre in the West of Ireland approved by the RSA to deliver ADI instructor training and driver training in every category of vehicle (A, A1, B, BE, C1, C, CE, D1, D). Advance Drive delivers tuition in manual and automatic vehicles as well as providing driver training to professional truck and bus drivers. Specialist driving tuition known as ESDS (Emergency Services Driving Standards) is also provided to the emergency services.
Whatever the licence category, Advance Drive has you covered!
"We provide training in all the categories, including car, jeep and trailer, bus and truck. We have a wealth of experience and expertise with a 92% first time pass rate," says managing director Philip Rice.
Furthermore, Advance Drive runs weekly Driver CPC Training courses, Forklift courses for Counterbalance, Reach and Power Pallet Trucks, Safe Pass, Manual Handling as well as Digital Tachograph Training and provides information on ADR Driver Hazchem Training courses.
Corporate services include Transport Compliance services and audits in addition to driver assessments for existing employees and new hires.
Driver recruitment is another service offered to newly-qualified and experienced drivers. Advance Drive works with transport companies to place recently-qualified drivers and can count the Department of Social Protection & Employment Services, Intreo, Galway Roscommon Education and Training Board (GRETB), Longford Westmeath Education and Training Board LWETB), An Post, ESB, Galway City Council, Galway County Council among its long list of clients.
Originally based in Salthill, Advance Drive relocated to its state-of-the-art transport training centre in Ballybane four years ago. The 12,000 sq. ft. training centre is one of the best in the country, boasting four classrooms and a large warehouse for forklift training.
Philip along with his partner Ailbhe took over the running of the business from his father Michael in 2013 and employs 19 staff, including 14 RSA-approved driving instructors.
"We currently have 17 vehicles -six cars along with a jeep and trailer, a small C1 Mercedes Sprinter, a Ford Transit minibus, three rigids, two artics and three buses, two of which are automatic. We have ambitious plans for 2021 and hope to increase this fleet by at least another six vehicles in the coming months."
Online learning courses have become the norm since the COVID-19 pandemic hit last year as Philip explains: "We're now providing full-time online training courses for GRETB and LWETB in delivery driver, HGV rigid truck, HGV artic truck and coach / bus driving.
"These courses, which usually take place in a classroom environment from 8.30am to 4pm, have been online since last June. We have two tutor-led sessions each day at 10am and 12.30pm. While there is extra self-study involved, students can still come into us for the practical elements.
"There has been a great response to our online learning courses. They've helped our students to acquire skills they may never have had and have adapted to online training very quickly."
Philip is pleased to report that driving tests for essential workers have been largely unaffected by the pandemic. "There haven't been any delays because anyone working in the transport industry is seen as essential."
Advance Drive has the distinction of being the only training provider in the West of Ireland approved to deliver ADI (Approved Driving Instructor) training. This is a flexible and rewarding career which offers great job satisfaction. To become an ADI, you must be a person of good character (RSA Garda vetting process), be tax compliant and hold a full driving licence for the category in which you wish to give instruction for at least two years.
Philip has won the RSA's Leading Lights in Road Safety Award three times in 2013, 2014 and 2017, while his colleague Lee Mulligan was a winner in 2019. Philip was successful in the 'Approved Driving Instructor (Truck)' category in 2013 and 2014, and the 'Approved Driving Instructor (Car) category in 2017. Lee won the overall Approved Driver Instructor Award two years ago.
The Advance Drive team have a long-standing interest in road safety and a personal commitment to helping others share the road in a safe and socially responsible manner. Philip is also a member of the RSA's Stakeholders Forum, representing the West of Ireland after being elected by a number of ADIs in his area.
Learning to drive is something that nearly every person will do in their lifetime. Getting the correct information and professional training from the start helps drivers to become safer, socially responsible and more competent, thus minimising risk to themselves and other vulnerable road users. Advance Drive will help you pass your driving test first time and provide you with all the information and guidance you need along the way. If you want to get your car, bus or truck licence, be sure to give them a call.
Here's to the next 30 years of this exceptional driving school!
Advance Drive Training Centre
Bothar Na Mine,
Ballybane,
Galway.
Telephone: 091 524689
Email: info@advancedrive.com
Web: www.advancedrive.com
Published in Irish Trucker & Light Commercials magazine, June/July 2021, Vol 24 No 4