A Premier Service
02/09/2021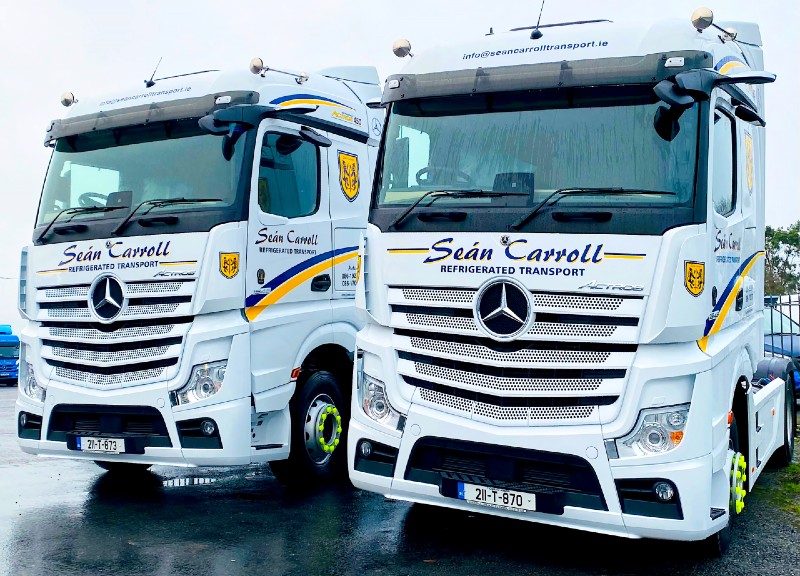 Established almost 40 years ago, Tipperary based Sean Carroll Transport is a leading provider of refrigerated transportation for all temperature-controlled cargoes.
Founded by Sean Carroll in 1984 and based in Clonmel, it is now a family operated business with Sean's wife Bernadette a Director and son Gerard looking after the day-to-day operation in his role as Logistics Director.
Sean Carroll Transport operate on a nationwide basis, even though they have an international haulage as well, but as Gerard revealed to Irish Trucker, they are focused on providing a top-class service to their loyal customer base here.
Supplying the retail service with food stuffs and other goods means that this haulage company, like so many others, are an essential service and thus so, they need a fleet of trucks and trailers that are in pristine condition to carry out their work to the highest standard.
"There are massive time constraints in this industry, so it is essential to make sure that the fleet is keep in a good condition. We would upgrade the fleet on a regular basis. We have 17 trucks, the majority of which are Mercedes-Benz. Earlier this year, we added two new Actros to the fleet.
"We are very proud of our fleet here at Sean Carroll Transport and it is of major importance to us and our customers for our fleet to keep its respectable clean image and high-quality service. To ensure this all our vehicles are maintained to professional standard and vehicles are cleaned daily after every shift ensuring vehicles adhere to HACCP regulations for the transport of foodstuffs."
The two new Mercedes-Benz Actros trucks were supplied by Mercedes-Benz commercial vehicle dealer Surehaul (Irl) Ltd. of Clonmel, of which the company is a long-standing customer, the new units are the first of a number of Actros trucks due to be added to the Tipperary haulier's fleet over the coming months.
Top amongst the list of safety and comfort features in the Actros 1845, 2.5m StreamSpace cabs is MirrorCam, Predictive Powertrain Control, truck specific navigation, 1150ltr fuel capacity, bi-zenon lights, factory paint and a fridge.
"We would do a lot of business with Surehaul and they provide a great service. If there is an issue, which is seldom, then they are just a phone call away and they are happy to help in any way that they can."
Sean Carroll Transport has always put the customer first, an ethos that has stood to them down through the years as Gerard stressed it was all about the service.
"Through the years we have come to understand the demands of different business sectors and have developed our business around our customers to offer a 24/7 road transport service to the retail, manufacturing and logistics industries throughout Ireland."
Of course, any good business would not have success without the cooperation and loyalty of an experienced work force and Gerard admits that they are fortunate in that regard as they employ 35 people in total.
"My mother Bernadette has been involved in the business for over 30-years and is a Director and the Company Secretary, and helps in account. As well as my father and me, my brother Vinny is also part of the management. We have a number of drivers that would be with us many years now and they are very good at what they do. They not only get the job done on time, but they look after the trucks as if they were their own.
"You can send them off on a delivery in the knowledge and peace of mind that everything will be done efficiently. I would like to take this opportunity to thank everyone from the office staff to the drivers for all their efforts over the years.
"Our drivers are trained to customer requirements and our vehicles adhere to HACCP regulations, to ensure compliance and overall satisfaction."
A growing issue within the haulage industry is the lack of young people pursuing a career as a truck driver and although Gerard admits that it is a concern, he stressed that they were fortunate with the age profile of their drivers.
"There is no doubt that it is an issue. There are not many people looking at driving as a career and for those that do, insurance is a big stumbling block. Insurance companies won't take drivers on unless they have experience, but how can get the experience, if they can't get insured in the first place?
"We are lucky here, most of the drivers would be in their 30s, we would have a few a bit older, some lads would be with us 15 years or more, but the majority have long careers ahead of them and hopefully that will be with us."
Hauliers have a number of issues to contend with on a daily basis, but the age-old problems of rising diesel and insurance costs are two that never seem to be too far away.
"The price of diesel is starting to climb up again in the last few months and that is a concern. The insurance needs to be looked at, it should be opened more to the haulage industry, so that there could be a bit more competition amongst the companies as there is a monopoly there as it is."
Gerard is pleased with the service that they provide and added that once the customers are happy, they are happy too.
"With vehicles returning daily from Wexford, Waterford, Kilkenny, Dungarvan, Cork we can offer very competitive rates on return loads to anywhere in the country.
"Our dedicated vehicles can offer a Just-In-Time collection/delivery service to ensure a smooth operation of supply and manufacturing process to your company. Our multi temp trailers can carry both frozen chilled and ambient product all on the one load. All our trailers have full ATP certification for carriage of foodstuffs."
Contact Details:
Sean Carroll Transport
Kilmacomma,
Clonmel,
Co. Tipperary
Office Hours
Monday-Friday: 7am – 7pm
Saturday: 10am – 5pm
Phone: 087 2588610
Phone : 086 1705173
Email info@seancarrolltransport.ie
Published in Irish Trucker & Light Commercials magazine, June/July 2021, Vol 24 No 4