Against all odds
14/09/2021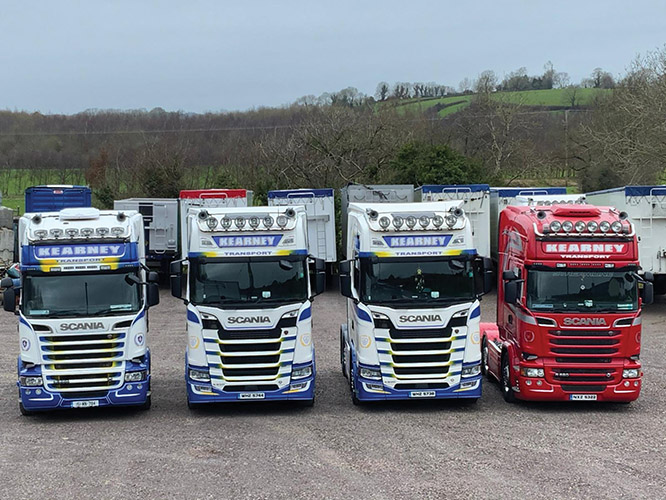 There is no doubt that the haulage industry suffers from its fair share of problems, whether it be the rising costs of diesel and insurance or changes to driving regulations, there is plenty to hamper the thousands of businesses involved in this sector.
Fortunately, the price of diesel and insurance has levelled off and hauliers could look forward to a bright future, but of course that was not to be the case as 2020 shown with the Covid-19 Pandemic affecting us all.
Many might say that the haulage sector was unaffected by the pandemic, which is true for many companies, but for others operating in the likes of the construction or the food service sectors, they have had to tighten their belts.
Indeed, it was bad enough to have to deal with the coronavirus, but for any haulier that operates throughout Ireland and the U.K, far worse occurred in the form of Brexit.
The U.K's decision to leave the EU has been four years in the making, but when a deal was finally signed before Christmas, everyone expected a smooth transition, but this certainly wasn't the case.
Long delays at ports are a common sight these days as custom declarations are slow to go through and as anyone in the haulage industry will tell you, time is money.
One haulier that has experienced Brexit at close hand is Seamus Kearney of Kearney Transport Ltd. Based in Moy, Co Tyrone, this family run business have seen it all in their 23 years of operations.
However, Seamus admits that the last 12 months have been unprecedented given what the world has had to deal with.
"These are strange times to say the least. The last few years have been tough to deal with. First the pandemic, which has had an affect on our business to some extent, but worse for us has been Brexit, it really has hampered us a lot," said Seamus.
Specialising in walking floor transport and operating throughout Ireland, the U.K and mainland Europe, the company generally hauls horticultural products, woodchip, recycled goods and palletised goods.
"All of our bulk loads seem to be moving ok, but it is the palletised goods that are being held up. We have had drivers waiting for up to 24hrs to get through customs and I've heard of drivers waiting four or five days, which is unacceptable.
"There are massive time constraints in this industry and you always have to deal with hold ups of some sort, but these are just unnecessary. It took years for Brexit to go through and even when it did no one knew what to expect. There are a number of issues that need sorting, and they need to be sorted quickly. We are going through the ports on an almost daily basis and the delays we are experiencing are not right."
Using the Belfast, Dublin, Cairnryan and Holyhead ports as well as others sees the company well used to paperwork and Seamus revealed that they book all their own sailings.
"We would book the sailings ourselves. It takes out the middleman and we just feel that it more efficient doing it that way."
Seamus and his father Kevin who established the business in 1998 have a fleet of eight trucks with Scania and Volvo being the preferred make of lorry. Dennison's, Road Trucks NI and McElvaney Motors.
"The trucks would be upgraded on a regular basis and the oldest that we have here is 2015. We get good service from the main dealers. My father would look after a lot of the maintenance work, but the trucks that are still under warranty go back to the main dealer."
For their trailers, Seamus and Kevin go directly to the manufacturer and which is Holland based Kraker who are one of the world's leading producers of walking floor trailers.
"All the trailers except one are walking floors, we have one tipper as well. But the walking floors are brought in from Holland where a company called Kraker manufactures them.
"We find them the best trailer on the market, and we haven't had any problems with them at all since we started using them. I couldn't speak highly enough about them."
Despite all the issues that face them on a daily basis, the Kearney's are happy to carry on providing a quality service that their customers have become accustomed to over the years.
"Look, there is always something in the haulage industry, margins are always very tight, but you have to keep working away and ensuring that the customers are kept happy. That is the main thing for us.
"We are happy with the workload we have and all of our customers have been with us years. I just hope that these issues at customs can be sorted very soon, otherwise the industry will come under even more pressure and companies like ourselves will feel the full force of that."
Contact Details:
Kearney Transport Ltd
23 Seyloran Lane
Dungannon
Co Tyrone
BT71 7EH
Telephone:
07796 277554
Email: kearneytransport@outlook.com
Published in Irish Trucker & Light Commercials magazine, June/July 2021, Vol 24 No 4