Breen Transport marks 35 years 
16/09/2021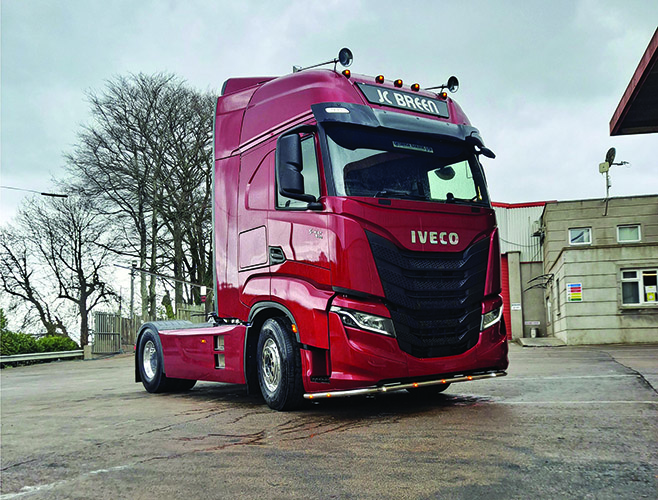 Established in 1986, J C Breen & Co. Ltd. T/a Breen Transport offers a next day nationwide delivery service to its clients. Irish Trucker touched base with the company's new Managing Director Nick Breen to learn all about the business, including the latest additions to its excellent fleet down in Ferns, Co Wexford.
Business is going thriving at Breen Transport some 35 years since its inception and Nick Breen plans to keep it that way as he approaches a year in management of the company.
Based in Ballydonegan, Ferns, Co Wexford, the company was founded by the late John Breen in 1986 and, since that time, has grown its staff to 85 and its fleet to more than 50 trucks.
Nick Breen took over the running of the business following the passing of his father last July and today Breen Transport very much remains a family outfit.
Irish Trucker caught up with Nick recently to find out the ins and outs of the company – from its origins to the state of business today.
"My father established the company in 1986 and it's still very much a family busines to this day, with myself, my mother, brother and sister all involved," Nick explained.
"Our core service offering is a Nationwide Next Day Groupage Delivery Service and have we have formed a number of strategic alliances with Urban Hubs and along with all their regional hauliers this allows us to meet that commitment to our customer. With our own fleet, we service the South Eastern region for both collection and delivery, we then tranship to those urban hubs.
"With our 40,000 Sq. Feet Warehousing Facility at Ballydonnegan, we offer a Storage Service to some of our customers & also offer a Pick & Pack service.
"In recent times and with our proximity to Rosslare Euro Port with have offered some transhipping or cross docking services also; and with recent development we believe there may be some future growth in this sector for us.
"We also have a number or Rigid and Articulated Refrigerated units in the fleet and service sectors like Meat Industry; transporting Hanging Lamb, the Horticulture Sector with the shipping of Carrots, the Food sector shipping some fruits and yogurt into the retail sectors."
The origins of the business date back three-and-a-half decades ago as one truck and one other driver working 24/7 transporting poultry manure for the mushroom industry.
In 1988, it expanded to a second arctic truck and the business itself branched out to transport mushrooms across the UK for Walsh Mushrooms in Gorey, with back-loads of groupage from the UK into Dublin and the South East.
By 1995, Breen Transport had ventured into the courier industry and would become a member of Night-freight Ireland handling groupage collections and deliveries in the South East.
The company would become part of the ONCE NETWORK alliance in 2000 and eight years later it delved fully into refrigeration transport, handling the distribution for Irish Country Meats, Camolin & Navan and John B. Dockrell.
The company meets any delivery requirements, anytime, anywhere in Ireland and the UK, and in the last 12 months business has been flourishing.
"Over the last year or so, business has been going strong," said Nick.
"January 2021, was a bit of a stop-start month between everything going on but we're back busy again. I'm happy with how things have been going and I suppose expansion is something that you're always targeting."
Nick, (and John previously) pride themselves on the image of the fleet and the driver. The fleet is 52 strong now (Articulated, Rigid and Refrigerated Units), with the distinct White Curtain and Red Trim is maintained at the onsite garage.
The drivers contribute to this image and run the trucks through the onsite truck wash each evening when they return to base. The driver is fully uniformed and always display the Breen logo. In recent years Breen's were Finalists in the National Fleet award categories of "Regional haulier of the Year" & "Best Livery award."
The staff has experience in working with consignments from a diverse range of client sectors, from multiple to single pallets and is also experienced in handling customer's logistics requirements and dealing with the unexpected with a 'can do attitude' and a desire to get client what they need when they need it.
As Nick outlined, there have been four more additions to the Breen Transport fleet so far this year.
"There are 52 trucks on the haulage license and we have four more coming in 2021," he said.
"We have a new Iveco coming that should be here in the next couple of weeks and then two new Mercedes and a 16-tonne Iveco to service Wexford Town.
With business growing, you can it is expected those numbers will grow again next year, or perhaps even before it, as the Breens look to continue the company's expansion in order to meet customer demand.
The burning question is what has been the secret to success for this company after three-and-a-half decades?
How has a small start up grown into a thriving business with more than 50 trucks and close to 100 staff on its books?
The way Nick sees it, experienced staff and quality service go a long way in this game.
"Some of it is the fact that the service is there so long now," he stated.
"We have operated in this service sector for a long time now and continue to learn and improve. Our customer driven and flexible approach has built a loyalty with our customer base. Our experience and infrastructure have allowed us to offer a competitive service also. We have always been a progressive and innovative company and have adapted over the years to sustain our longevity.
"I would be hoping to grow the business and have another great year here. My father worked hard to grow this business and I hope to work as hard. Relationships have been formed and nurtured over the years and my aim will be certainly to maintain, grow and foster new ones in the years ahead."
Indeed, it seems to be in the Breen family genes, as Teresa, Barry and Ashley Breen along with Ashley's partner Rainsford all remain involved in the family business to this day.
"The Transport Industry is one ever changing sector and every day brings a different challenge. At Breen Transport we certainly do not take things for granted and are not in any way complacent.
"The key contributory factors to our success first of all is simply sheer hard work and commitment from a strong team of dedicated staff, from the professional approach our drivers, the warehouse and garage personnel, customer service, operation and administrative teams; who all keep this well-oiled machine moving.
"To that end we would really like to take this opportunity to thank the team at Breen's for their loyalty and support in what has been a challenging time for us as a family," Nick said.
Nick has spent most of his working life with the company and knows the business well. He is now the Managing Director and Haulier Licensee and will admit that as he now heads up operations at Breen's he has really learned so much in the past few months; but relishes the challenge ahead also.
"I found since taking over that it's a lot of problem solving and being realistic about things. I've learned a lot in just a couple of months running this place," Nick concluded.
Breen Transport
Ballydonegan,
Ferns,
Co Wexford.
Phone: + 353 (0)53 93 66486
Fax: + 353 (0)53 93 66762
E-mail: info@breentransport.com
Published in Irish Trucker & Light Commercials magazine, June/July 2021, Vol 24 No 4