Gibson Transport celebrates 20th anniversary
21/09/2021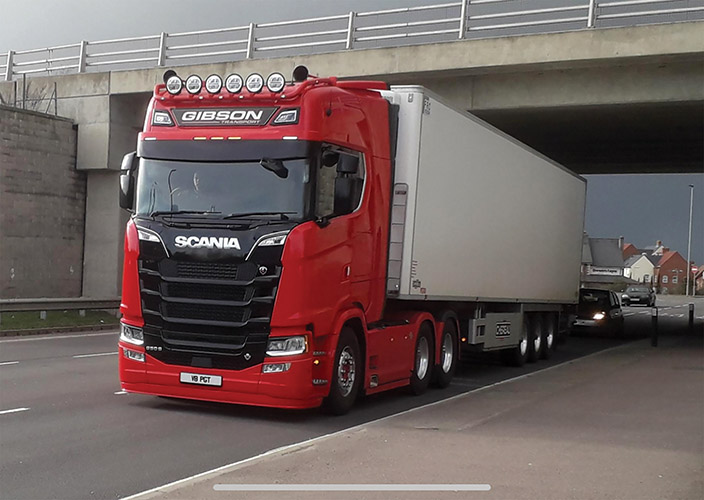 For any business to celebrate their 20 year anniversary is a momentous occasion and one which should be celebrated with pride, especially in such an unpredictable and competitive industry as haulage.
In this month's edition of Irish trucker, we profile a haulage firm that has reached the two decade mark as we look at Co. Antrim based Gibson Transport.
Managing Director Peter Gibsons' story is not your run of the mill 'boy enters family run business and carries on his father's legacy'. It is very much a story of a childhood dream becoming a reality through sheer hard work and determination.
Even though there was no haulage background in the family, his father was a building contractor, Peter always had a fascination with trucks.
"I was always into lorries and knew from a very early age that one day I wanted to drive one. One of my first memories is of being lifted up by my father to look into the cab of a lorry. I was obsessed from then," explains Peter.
"After I finished my degree at University, the love for haulage was still there so I did my HGV license and began driving for a local company."
Peter gained experience driving for various local haulage firms, delivering both locally and cross channel before he made the life-changing decision and bought his first lorry; a space-cab DAF.
As owner driver, he made many sacrifices and spent a lot of time away from home and his family but the ambition to build a successful business was always there.
Peter has had to learn everything about the industry since he first got his license and he admitted that he is still learning to this day: "There is always something different to be dealing with in the haulage industry. In the last 12 months alone, we have had a pandemic and Brexit to deal with.
"These have brought many challenges for our business but we are able to face them head on and work through on a daily basis successfully."
Gibson Transport prides themselves on being a family run business. They specialise in delivering cost effective temperature controlled deliveries to any location within the UK, Ireland and Europe.
"We pride ourselves on our customer relations and keep our client base small to ensure the best possible service is always delivered.
"We have currently scaled back on the European work due to Brexit and the complications it entails, but we are busier than ever with UK and Ireland contracts."
Peter operates an impressive fleet of ten trucks and six trailers, all of which are upgraded regularly and serviced under warranty. He has just taken delivery of a Scania 650S from Road Trucks, Larne which is his pride and joy.
"The maintenance and servicing of our fleet is a major cost so by upgrading the lorries regularly, it ensures that the dealership is responsible for any problems which may arise. There are huge time constraints in this industry so you want to avoid downtime at all costs. A lorry parked up is not cost-effective."
Peter is fortunate to have a good team of drivers, some of whom have been employed by Gibson Transport for several years.
"It gives me peace of mind that the employees are loyal and their combined experience helps to ensure that we always carry out our contracts to the highest level."
There is a huge problem developing in the haulage industry as a shortage of competent drivers is giving operators a major headache.
"It is definitely an issue which needs to be addressed," adds Peter.
Young people choosing haulage as a career is on the decline and as many insurance companies are reluctant to insure drivers under 25, it is a problem which seems difficult to rectify.
Peter explains, "We have taken on young drivers in the past and if they undergo and pass their driver assessments, our insurance company will insure them. This policy needs to be rolled out on a nationwide scale to overcome the shortage."
Peter has built up his business gradually over the past 20 years and there have been many knock-backs along the way, but he is content and proud of the size of his current fleet and the opportunities if offers. He takes great pride in the personal service he offers and feels has more control running a business this size.
"We have a loyal customer base, experienced staff and we provide a competitive service so I am very happy with the direction this business is going in. But never say never!"
They say behind every good man is a good woman, but in Peter's case he is very fortunate to have three women supporting him, his wife Diana and his two daughters, Lauren and Ellie.
"I am very lucky to have my family supporting me with every decision that has been made to grow Gibson Transport over the last 20 years and I would hope we are here for many more to come."
Contact Details:
Gibson Transport
12 Downview Park
Ballymoney
Co. Antrim
N. Ireland
BT53 6AE
Tel: 07933 292233
E-mail: peter@gibsontransport.co.uk
Published in Irish Trucker & Light Commercials magazine, June/July 2021, Vol 24 No 4