Autotowing Ltd approaches 35 years in business 
24/09/2021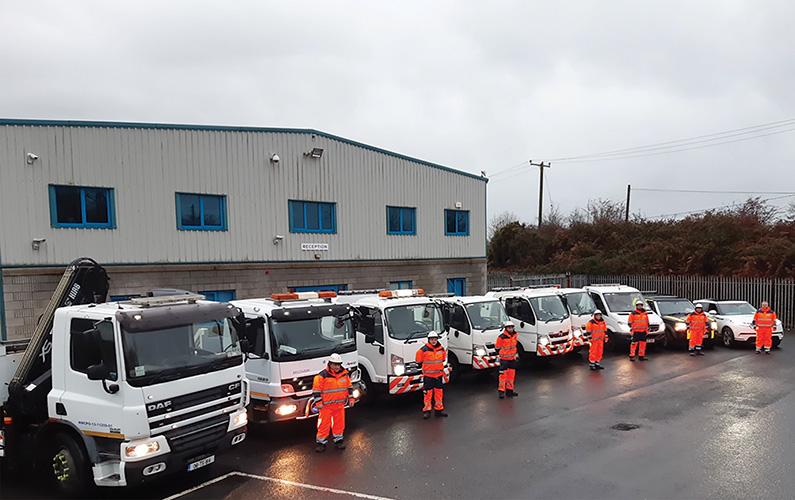 Based in Coolready, Co Limerick, Autotowing Ltd has grown into one of the leading vehicle dismantling and ATFs in the country. Irish Trucker caught up with its owner and founder Bob Sweeney recently to learn all about the company – from its origins to the state of business today.
Autotowing Ltd has had quite the rise since Bob Sweeney first founded his business venture back in in the summer of 1986, operating with a single recovery vehicle on the road.
Today, the company has 18 full-time staff, seven vehicles on the road and, as an ATF (Authorized Treatment Facility), are able to issue C.O.D. (Certs of Destruction) for end-of-life vehicles.
Autotowing Ltd also works closely with the local authority to ensure that the highest standards are continually met.
Irish Trucker touched base with Bob Sweeney to find out more about the growth of his business over the last three-and-a-half decades and his plans for the future.
"We're based in Coolready, Castleconnell, Co Limerick and the company is set-up since August 1986," he outlined.
"Right now, we have 18 staff and my son Robbie is involved in the company with me here.
"We offer a lot of different services but towing and breakdown service would be the core of the business. We do work for Axa Insurance, An Garda Síochána and also for Limerick City & County Council and they'd be some of our main clients."
Along with the 24-hour recovery service, Autotowing Ltd also specialises in Car Parts and End of Life vehicles services.
The Car & Truck Dismantler side of the business, known as Bob Sweeney Car & Truck Dismantlers, has grown to become one of Ireland's premier vehicle dismantlers supplying new and used quality car parts.
It dismantles all makes of modern vehicles, with next day courier service available.
With regards to the End of Life vehicles service, you can only deal with a properly permitted ATF when disposing of your old vehicle as these are the only facilities that can issue Certificates of Destruction.
Autotowing Ltd offers customers free collection of vehicles, Cert of Destruction Issued Environmental friendly NVDF De-registration.
The range on services on offer is what makes the company first choice for so many of its customers and its 24-hour breakdown assistance and nationwide recovery is second to none.
With a fleet of satellite tracked recovery and repair vehicles, Autotowing Ltd guarantees its customers safe and efficient breakdown and recovery assistance.
They are approved recovery agents for Ireland's leading insurance companies, such as AIG, Aviva, Axa, FBD, RAC, Ireland Assist and MIS breakdown, and also look after special events road traffic management/route clearance in the Limerick area.
It's all a far cry from where Bob Sweeney first started out in the business all those years ago, as the Treaty County native outlined himself:
"I worked in Gleeson's Garage in Limerick and that's where I cut my teeth," he said.
"I'm a mechanic by trade and when I set-up this business I started with nothing. I didn't even have a car!
"I was young and ambitious, I suppose, and the business just grew year on year and we built it up into what it is now."
Nowadays, business is tough given the unprecedented times we live in.
The Covid-19 pandemic, and the government restrictions which have followed in order to try and fight the spread of the virus, have affected businesses nationwide and Autotowing Ltd is no different.
The company has made the necessary changes so as to be compliant with restrictions and it saw its drivers working from home rather than from the base in Coolready.
"Business is tough, especially with all of the different aspects of this business, and Covid really made it tougher for us," said Bob.
"Our drivers had to reduce their interaction with clients and customers which had its challenges when dealing with stranded motorists.
"The An Garda Síochána contract and other work we have that is deemed essential has kept us going through the lockdown but, like everyone else, we'll be looking forward to things opening up again."
The next couple of months should also see Autotowing Ltd making an upgrade to its impressive modern fleet down in Coolready.
As Bob explained, it has been a policy of the company to ensure that an upgrade is made to the fleet on an annual basis.
"We have seven vehicles here in total," he said.
"Four years ago, we started making changes to our fleet, we looked at fuel economy, reliability, service intervals , purpose of use, etc, and committing to upgrading the fleet over a five year period.
With seven trucks and 18 staff under him, things have come a long way since Bob Sweeney first set-up shop almost 35 years ago.
So, the burning question is what has been the secret to success for Autotowing Ltd after all these years?
"I suppose it's because of the reliable service that we provide and the experience we've gained down through the years," stated the company's founder.
"We've put in a lot of hard work down through the years and there is an element to it (the success of the company) which has come down to pure hard work.
"We're an award-winning company as well and I suppose clients take notice of that as well."
The hard work continues at Autotowing Ltd as Bob and the team look forward to things opening up again and a return to some sort of normality.
Looking towards the coming months, the Managing Director summed up his company's approach by saying "We'll just look to keep the head down, keep going and take each day as it comes."
He concluded: "I'd just like to pay a little bit of a tribute to the nurses and front-line workers because they've pulled out a stormer with the work they've done. No one knew where we'd be last year and, hopefully, we've turned a corner now."
Autotowing Ltd
Coolready,
Castleconnell,
Co Limerick
Car Parts: 061 377 496
parts@bobsweeney.ie
Recovery: 061 377 911/ 087 256 4408 (24-hour)
recovery@autotowing.ie
Web: autotowing.ie
Published in Irish Trucker & Light Commercials magazine, August/September 2021, Vol 24 No 5